Previous:
On Tuesday the 2nd of July, trading on the EURUSD pair closed at parity. The single currency got some support from the EURGBP cross, as the pound came under pressure following remarks from BoE Governor Mark Carney, who said that with Brexit taking its toll on markets, there's a likelihood of lowering interest rates.
After rising to 1.1322, the euro returned to 1.1282. Despite the easing of tensions between the US and China, yesterday saw a retreat towards the safe havens. With a decreased appetite for risk, the yen, along with gold, have gone up in value.  Washington has threatened tariffs on up to 4bn USD of European goods, increasing pressure on the EU over subsidies for commercial aircraft.
Day's news (GMT 3):
10:50 France: Markit services PMI (Jun).
10:55 Germany: Markit services PMI (Jun).
11:00 Eurozone: Markit services PMI (Jun).
11:30 UK: Markit services PMI (Jun).
15:15 US: ADP employment change (Jun).
15:30 US: initial jobless claims (28 Jun), trade balance (May).
15:30 Canada: international merchandise trade (May).
16:45 US: Markit services PMI (Jun).
17:00 US: ISM non-manufacturing PMI (Jun), factory orders (May).
17:30 US: EIA crude oil stocks change (28 Jun).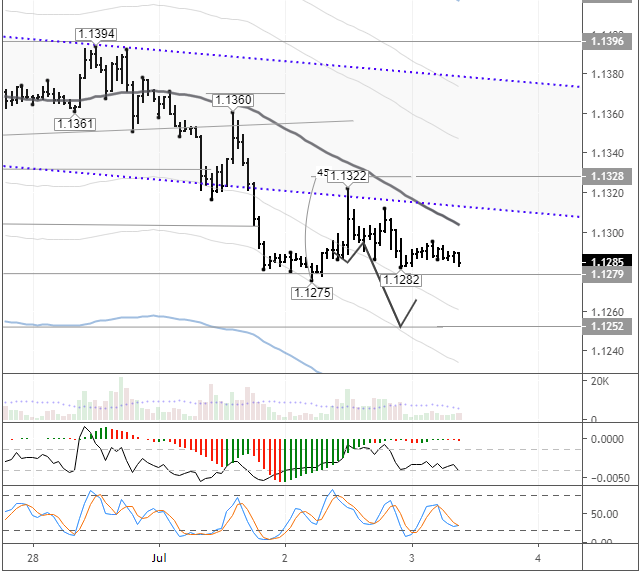 Current situation:
At the time of writing, the euro is trading at 1.1283. The 112th degree at 1.1279 is providing support. I think that this level will be breached during the European session, and the pair will slide to the 135th degree at 1.1252. Keep an eye on the safe haven assets and the US dollar index, as the euro could drop as far as 1.1230-1.1240 depending on their movements.
Donald Trump is keeping the majors in a sideways trend with his contradictory statements. On Monday, he said that any trade deal reached with China would have to be somewhat tilted in the US' favour. This is a sign that trade talks could collapse at any moment and that Trump could impulsively decide to raise tariffs on Chinese goods again.