Previous:
On Monday the 15th of July, the euro declined against the dollar, with trading closing slightly lower than the Asian session's opening price. During the Asian session, the pair traded within a corridor of 1.1263 – 1.1274. As the European session got underway, the EURUSD pair reached an intraday high of 1.1283 before starting to decline ahead of the US session. This downturn gathered pace as FOMC member John Williams took the stage. The dollar subsequently continued its rise against the euro, culminating in an intraday low of 1.1253 on the EURUSD pair. This broke the support at 1.1262, but the pair fell short of Friday's low of 1.1238, although there's still a chance of reaching it.
Day's news (GMT 3):
11:30 UK: ILO unemployment rate (May), average earnings (May).
15:00 UK: BoE's Governor Carney speech.
15:30 US: retail sales control group (Jun).
20:00 US: Fed's Chair Powell speech.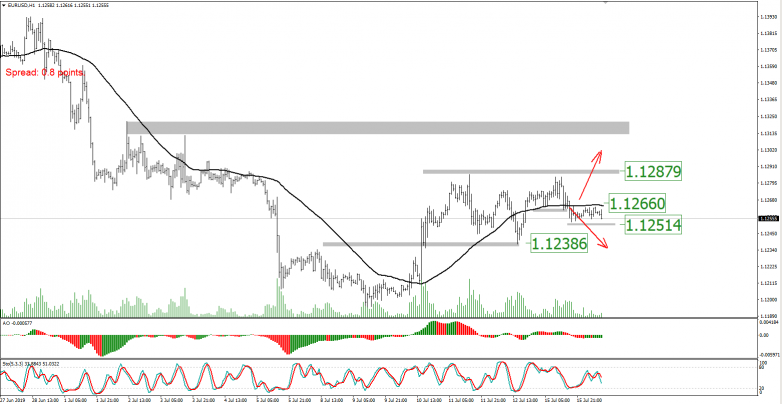 Current situation:
After breaking 1.1622, which is now a resistance, the euro's decline is likely to continue, and the pair should attempt to reach Friday's low. If, however, we get a reversal, and the pair breaks through the resistance, then the euro will most likely improve its position and move towards 1.1287.