Previous:
On Friday the 19th of July, trading on the euro closed down against the dollar, and has been trading within a limited range over the course of several days. Throughout the Asian, European, and US sessions, the EURUSD pair went no higher than 1.1287, and no lower than 1.1194. In today's Asian session, trading on the pair opened at 1.1276, subsequently slipping to 1.1240, and then recovered slightly to 1.1260 at the opening of the European session.
The weak showing by the German PPI (-0.4%) fell short of expectations (-0.2%) and marked a significant decline from the previous reading of -0.1%. Meanwhile, public sector net borrowing in the UK came out at 6.5b GBP, more than double what was expected, and nearly double the previous reading, which further sunk the euro.
Speeches from FOMC members James Bullard and Eric Rosengren during the US session pushed the euro to 1.1203.
Day's news (GMT 3):
15:30 US: Chicago Fed national activity index (Jun).
18:00 Japan: BoJ's Governor Kuroda speech.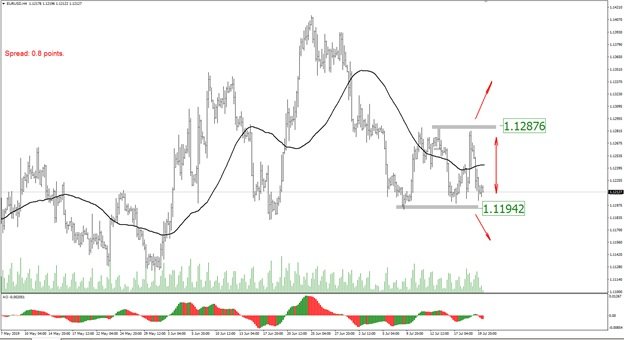 Current situation:
ECB President Mario Draghi in his June address spoke of the regulator's intention to lower interest rates and to consider further stimulative measures economic if key indicators continue to worsen. He looks set to approve another round of quantitative easing before leaving his post, while many investors also expect another rate reduction of 10 – 20 base points.
The Federal Reserve is planning to slash interest rates at its next meeting on the 31st of July. The EURUSD pair is most likely to keep moving within its limited range of 1.1287 and 1.1149 pending any major developments, while a breakout of either of these levels will set the future course of the currency pair. This, of course, assumes that we don't get any developments over the course of the week that may overshadow the expected rate reduction by the Federal Reserve.