Previous:
On Wednesday the 31st of July, trading on the EURUSD pair closed down by 0.72% (80 pips), and if we include today's trading, it's declined by a total of 1.19% (130 pips). The euro collapsed against the dollar after the announcement of the Federal Reserve's interest rate decision.
At the end of their two-day meeting, the FOMC decided to lower the Federal Funds Rate by 25 base points to a range of 2 – 2.25%. Only Esther George and Eric Rosengren voted to maintain the key rate at its current level. Jerome Powell remarked that this rate slash is aimed at pushing inflation up to its target level and that this does not mark the beginning of a series of consecutive rate reductions.
Another negative for the euro was the sharp decline on the EURGBP pair. This comes following a sustained rise on this cross pair amid Brexit uncertainty.
Day's news (GMT 3):
10:45 France: Markit manufacturing PMI (Jul).
10:55 Germany: Markit manufacturing PMI (Jul).
11:00 Eurozone: Markit manufacturing PMI (Jul).
12:30 UK: Markit manufacturing PMI (Jul).
14:00 UK: BoE interest rate decision.
14:30 UK: BoE's Governor Carney speech.
15:30 US: initial jobless claims (26 Jul).
16:45 US: Markit manufacturing PMI (Jul).
17:00 US: ISM manufacturing PMI (Jul).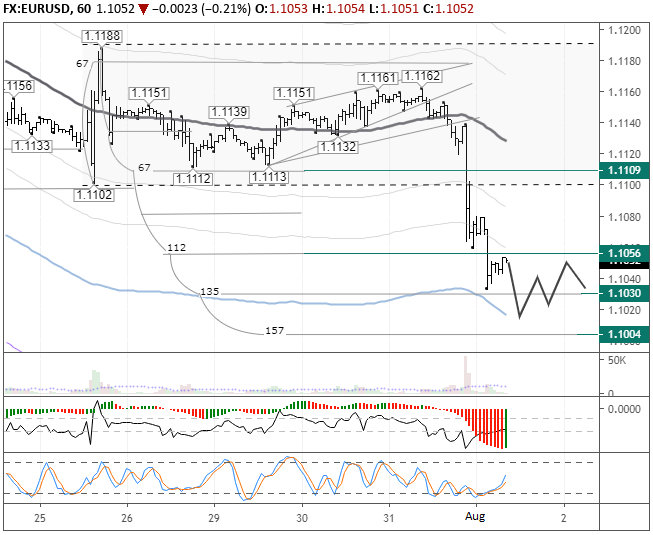 Current situation:
The 1.11 mark was tested, as expected. The pair initially dropped to the 112th degree, before continuing to the 135th degree in the Asian session.
There are two bottoms on the hourly chart without a bullish divergence. I don't think we'll get a correction until the euro hits fresh lows. There were a lot of put options at 1.11, which have now been cashed in on. The market remains highly volatile. Be ready for the EURUSD pair to undergo a correction after hitting fresh lows, with a recovery above 1.11. The situation doesn't look good for traders currently with put options, 80% of which are expected to close at a loss. I'm expecting a drop to the D3 line at 1.1015.