Previous:
On Thursday the 1st of August, trading on the euro closed 10 pips up against the dollar. The bulls recovered their losses incurred earlier in the day and moved into positive territory during the US session. This ambitious recovery was facilitated by a retreat towards safe haven assets as well as a rise on the EURGBP cross. As the appetite for risk subsided, investors moved towards safer assets (gold, yen, and Swiss franc). Brent oil has dropped 7% to 60.01 USD. The euro, as a funding currency, rose by 70 pips as stocks fell.
On Thursday, the US president tweeted that from the 1st of September, the US would impose 10% tariffs on 300bn USD of Chinese goods. He ramped up pressure following renewed trade talks on Wednesday after a 3-month pause. It now seems that those talks have failed.
Day's news (GMT 3):
10:30 Switzerland: SVME PMI (Jul).
11:30 UK: Markit construction PMI (Jul).
12:00 Eurozone: PPI (Jun), retail sales (Jun).
15:30 Canada: imports (Jun), exports (Jun).
15:30 US: trade balance (Jun), nonfarm payrolls (Jul), unemployment rate (Jul), average hourly earnings (Jul), average weekly hours (Jul), participation rate (Jul).
17:00 US: Michigan Consumer Sentiment Index (Jun), factory orders (Jun).
20:00 US: Baker Hughes US oil rig count.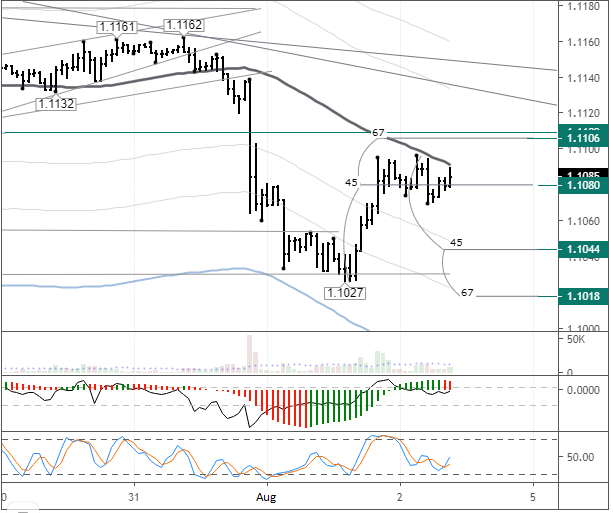 Current situation:
The euro hit fresh lows as expected in yesterday's European session, after which a correctional phase began. The drop came to an end at the 135th degree. The pair didn't reach the target level, but I did say that we should be prepared for a reversal. The euro has rebounded to the balance line, where it will most likely remain until 15:30 (GMT 3). Trade talks between the US and China have collapsed. I don't make predictions on payrolls day. Considering that a pin bar has formed on the daily timeframe, we should be prepared for the euro's rise to continue to 1.1130 – 1.1145.