Previous:
Trading on the safe haven currencies closed up last week, with everything else losing ground. The biggest loser against the US dollar was the pound (-1.80%), followed by the Aussie dollar (-1.60%), the Kiwi dollar (-1.45%), the Canadian dollar (-0.27%), and the euro (-0.17%). The yen posted a rise of 1.94% against the greenback, while the Swiss franc jumped 1.11%.
As the US-China trade conflict heated up once again, and investors retreated to the safe havens, the US jobs report was largely ignored. 164k new jobs were added outside the agricultural sector against a downwards revised reading of 193k for June (down from 244k). The reading for May was revised downwards from 72k to 62k, bringing the aggregate revision for the two months to -44k. The unemployment rate remained unchanged at 3.7%. Average hourly earnings rose by 0.3%, the same amount as the previous month.
The EURUSD pair traded within a 30-pip range. Judging by the chart, you wouldn't have guessed that the NFP report came out on Friday.
Day's news (GMT 3):
10:50 France: Markit services PMI (Jul).
10:55 Germany: Markit services PMI (Jul).
11:00 Eurozone: Markit services PMI (Jul).
11:30 UK: Markit services PMI (Jul).
11:30 Eurozone: Sentix investor confidence (Aug).
16:45 US: Markit services PMI (Jul).
17:00 US: ISM non-manufacturing PMI (Jul).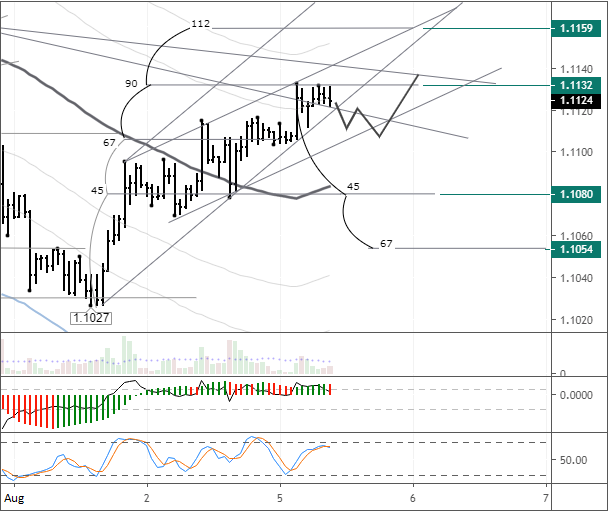 Current situation:
On Monday the 5th of August, trading on the euro opened up, with investors continuing their retreat towards safe haven assets on the back of increased trade tensions. Gold and yen are on the rise, the Chinese yuan has dropped against the US dollar, and Asian stocks are declining.
At the time of writing, the euro is trading at 1.1124 against the dollar. The pair is taking a breather at the 90th degree. There's a chance the pair could move within a wedge formation to reach 1.1142. Given that the indicators are overbought, and that the market is in risk-off mode, I'm predicting a decline to 1.1110. I don't think the pair will go any lower because of the fact that the euro is a funding currency, and as stocks begin to decline overseas, the Europeans will start opening long positions on the euro.
Iran has reportedly detained another tanker on the Strait of Hormuz, further increasing tensions with the US. If Trump insists on a military response, the rise on the EURUSD will continue all the way to 1.1175. There's a crucial support level at the 45th degree (1.1080).