Previous:
On Tuesday the 6th of August, trading on the euro closed slightly down. The stock market, along with the US dollar, was propped up by the strengthening of the yuan, which dropped from 7.1399 to 7.0415 against the greenback. The correction on the EURUSD pair, coupled with an increased appetite for risk, dragged the euro down to 1.1168. The pair then recovered some of its losses to close at 1.1198.
Washington labelled China a currency manipulator after the USDCNY rate broke the 7.00 mark. PBOC Deputy Governor Chen Yulu condemned the move by the US, saying that China has never used its currency as a tool for competition and that the exchange rate is determined by market supply and demand.
Day's news (GMT 3):
10:30 UK: Halifax house prices (Jul).
17:00 Canada: Ivey PMI (Jul).
17:30 US: EIA crude oil stocks change (2 Aug).
22:00 US: consumer credit change (Jun).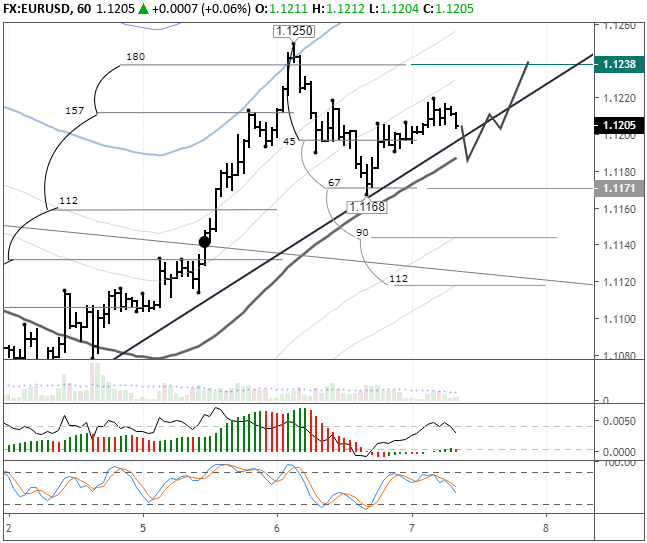 Current situation:
Yesterday's expectations were met. The pair bounced from the 67th degree to recover to 1.1206. In the Asian session, the euro rose further to 1.1220 on the back of a renewed retreat to safe haven assets following the yuan's decline. Gold has hit fresh highs.
At the time of writing, the euro is trading at 1.1203. The pair is currently in decline on account of the Kiwi dollar's collapse. The Reserve Bank of New Zealand lowered its key rate by 50 base points to 1.00%, while only a 25-base-point reduction was expected.
The pair has returned to the trend line. The balance line runs through 1.1190 (sma 55). Despite the Kiwi dollar's decline, the US-China dispute continues to dominate the headlines. I'm going to risk predicting a recovery from the LB to 1.1236.
If the hourly candlestick closes below 1.1180, this prediction will no longer be valid. In this case, there will be an increased risk of a correction to 1.1145 (90 degrees). White House economic adviser Larry Kudlow has said that he expects another round of talks between the US and China to take place in September. Judging by Trump's rhetoric, however, it seems unlikely that the two sides will reach a compromise and resume trade talks.