Previous:
On Wednesday the 7th of August, trading on the euro closed slightly up. The EURUSD pair rose to 1.1242 on the back of increased demand for safe haven assets. The euro was also pushed upwards by the US dollar index's decline, which dropped in response to comments made by US President Donald Trump. He called on the US Federal Reserve to lower interest rates as soon as possible to allow the US to be competitive with other countries. By the time trading closed, the euro had dropped to 1.1197. Trader attention has been fixed on the US-China trade conflict, so there's nothing more to say about yesterday's movements.
Day's news (GMT 3):
11:00 Eurozone: ECB economic bulletin.
15:30 Canada: new housing price index (Jun).
15:30 US: initial jobless claims (2 Aug).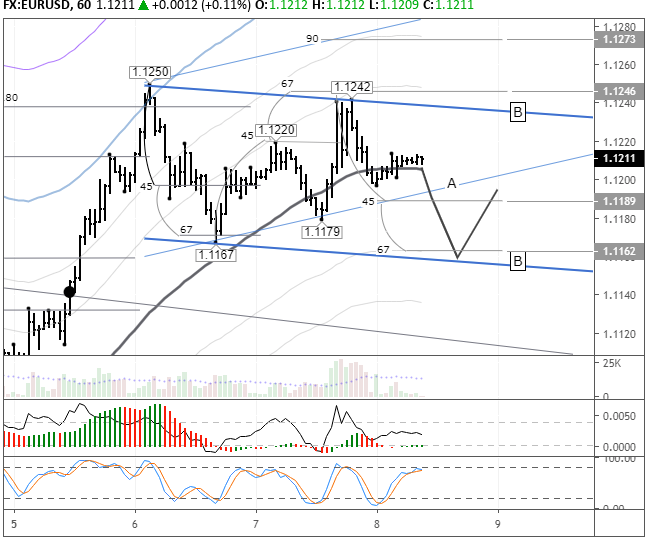 Current situation:
Yesterday's predictions were completely accurate, with the pair creating a false breakout of the trend line followed by a recovery to 1.1212.
At the time of writing, the euro is trading at 1.1206. The wedge formation made it difficult to draw a channel, but I eventually settled with the B-B channel. I expect the euro to drop to the 67th degree at 1.1162. I was very tempted to predict a bounce from 1.1195 with a target of 1.1236, but my mind was changed by the fact that despite an increase in tensions between the US and China, Chinese authorities have confirmed that they are still planning to send a delegation to the US in September to continue trade talks.
An additional factor for consideration is that the 1.1167 and 1.1179 lows are very close to one another. I'm sure that there are some stop levels on long positions a bit further down. The bears may clear them before the pair starts rising again. If safe haven assets start to rise, my prediction will probably fail. I'm waiting for a sharp upwards rebound from the 67th degree.