Previous:
On Thursday the 8th of August, trading on the euro closed down. The EURUSD pair remained within Wednesday's range. Markets have stabilised for the time being following reports that the US and China are set to continue trade talks in September. Investors were also calmed by the PBOC's statement that it has not manipulated the value of the yuan to mitigate the effects of increased tariffs from the US on Chinese goods.
Day's news (GMT 3):
11:30 UK: GDP (Q2), industrial production (Jun), manufacturing production (Jun), trade balance (Jun).
15:15 Canada: housing starts (Jul).
15:30 Canada: unemployment rate (Jul), net change in employment (Jul), building permits (Jun).
15:30 US: PPI (Jul).
16:00 UK: NIESR GDP estimate (Jul).
20:00 US: Baker Hughes US oil rig count.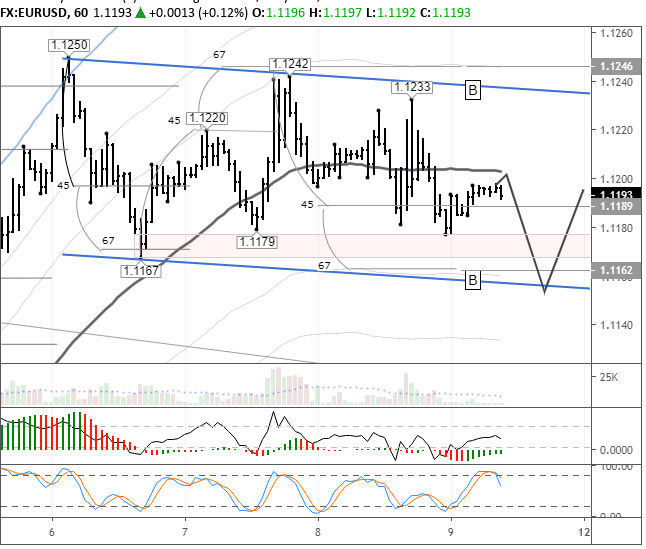 Current situation:
The bears didn't make it to the 67th degree (1.1162) on Thursday. The drop came to an end at around 1.1180. We can't rule out an upwards rebound here given Donald Trump's dissatisfaction with the strong US dollar.
On Friday the 9th of August, the majors are trading slightly up against the dollar. Taking into account the pricing model that we've drawn based on the 1.1250 high, I'm leaning more towards a drop to the lower boundary of the B-B channel and the 67th degree. I think this needs to happen before we can get a new rally.
Investors are mostly focused on the movements of the yuan. If they start to move towards safe haven assets ahead of the weekend, we can expect the euro to rise. Judging by the indicators, we should expect a decline ahead of the US session, followed by a rise to 1.1195.