Previous:
On Wednesday the 14th of August, trading on the EURUSD pair closed down. The euro dropped against the dollar during the US session despite the safe haven assets making gains. For some reason, euro traders had their attention turned towards recession fears in Germany. The pair found some resistance at 1.1131.
Day's news (GMT 3):
11:30 UK: retail sales (Jul).
15:30 US: retail sales (Jul), initial jobless claims (9 Aug), Philadelphia Fed manufacturing survey (Aug), NY Empire State manufacturing index (Aug).
16:15 US: industrial production (Jul).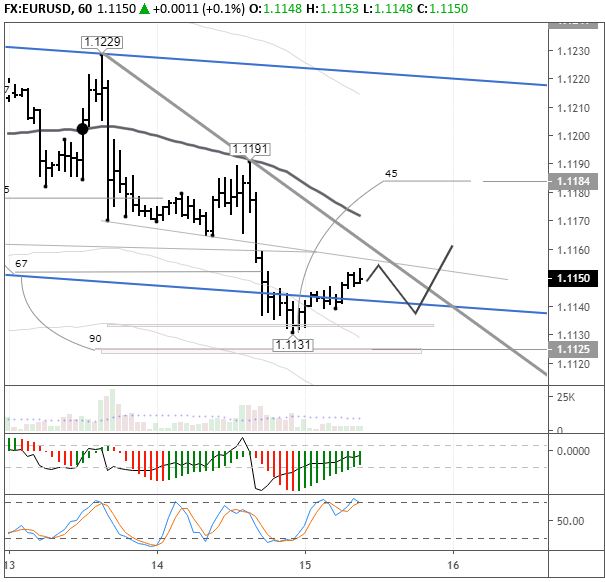 Current situation:
Yesterday's forecast didn't entirely work out. After reaching the balance line, we saw an aggressive wave of sales. There doesn't seem to be any basis for this decline. There are more questions than answers. German GDP data came out in the afternoon, but the drop came during the evening. This is quite a big delay. The euro's status as a funding currency didn't help, although this should have saved it from decline.
Yesterday, there were multiple reports of a yield curve inversion, with US 10-year bond yields overtaking 2-year yields. This has triggered fears of a recession in the US among experts. Some people look at the difference between 2-year and 10-year bonds, while others prefer to go by the difference between 5-year and 2 and 3-year bonds. Yesterday, we looked at the difference between 2 and 10-year bond yields, which wasn't in negative territory. Now it's at 0.01%. Those that are in negative territory have been since the beginning of August, so it's unclear what led the euro bulls to close their long positions.
The EURUSD pair is currently trading at 1.1142. Since we got a false breakout of the channel's lower boundary, we expect the pair to inch upwards towards the balance line. This should stop at around 1.1160, although if we get a convincing breakout of this level, the pair could rise as far as 1.1190.