Previous:
On Thursday the 15th of August, trading on the euro closed down. Anyone who's been on the market for a few years knows that intraday impulses are brought about by macro data, speeches from officials, and geopolitics. The EURUSD pair was trading up until the US session. By the time trading closed in Europe, the euro had dropped to 1.1092 against the dollar.
The euro's drop was brought about by comments made by Olli Rehn, a member of the ECB's Governing Council and governor of the Bank of Finland. He said in an interview with the Wall Street Journal that the ECB's stimulus package, the details of which will be announced in September, should exceed investors' expectations.
Experts are predicting the ECB to lower its deposit rate by 0.1% to -0.5% in September, while also announcing a new round of quantitative easing that would involve an asset purchasing program to the tune of 50bn EUR a month.
The US dollar's rise increased pressure on the euro. The US dollar index got a boost from US retail sales data.
Day's news (GMT 3):
12:00 Eurozone: trade balance (Jun).
15:30 US: building permits (Jul), housing starts (Jul).
17:00 US: Michigan Consumer Sentiment Index (Aug).
20:00 US: Baker Hughes US oil rig count.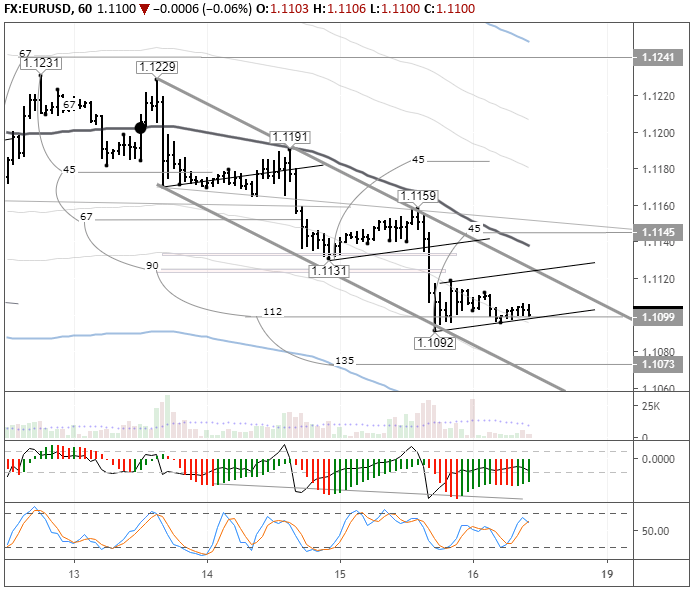 Current situation:
Yesterday's expectations were not met. Olli Rehn's intervention pushed the euro down to the 112th degree at 1.1092. We got three bearish waves of about 66 pips each, nicely fitting in to the downwards channel. There's no divergence on the AO, so there's still a risk of dropping to the 135th degree at 1.1071.
The situation on the market looks contradictory at the moment, because the pair is trading at the 112th degree. For the EURUSD pair, the range between the 112th and 135th degrees marks a reversal zone on the hourly timeframe. We often get corrections from here. Because of this, there's no forecast on today's chart, but there are a couple of things to consider about the current situation:
The first thing that catches the eye is the clear, consistent pattern of corrections. As mentioned above, there's no divergence on the AO indicator, which means that considering Rehn's mention of the ECB's stimulus package, the pair could drop straight down from its current level. Within the channel, our target is at 1.1069. After that we can expect an upwards correction.
Another possible scenario has the pair trading flat within a range of 1.1092 – 1.1125 followed by a breakout of the trend line. If this fails we'll most likely get a drop to 1.1070.