Previous:
Most of the majors declined against the US dollar last week. The biggest loser was the euro. The only currency to gain ground was the pound. Movements on the EURGBP cross favoured the pound, giving us a divergence between some pairs with a positive correlation.
On Friday the 16th of August, the EURUSD pair dropped to 1.1065. Following disappointing US data, the pair recovered to 1.1107. At the latest reading, the Michigan consumer sentiment index in August dropped to 92.1 points, against the final revised value of 98.4 for July (forecast: 98.5).
Minneapolis Fed President Kashkari also made his mark on the dollar when he said that the regulator would most likely have to lower interest rates to combat the economic slowdown.
Day's news (GMT 3):
11:00 Eurozone: current account (Jun).
12:00 Eurozone: CPI (Jul).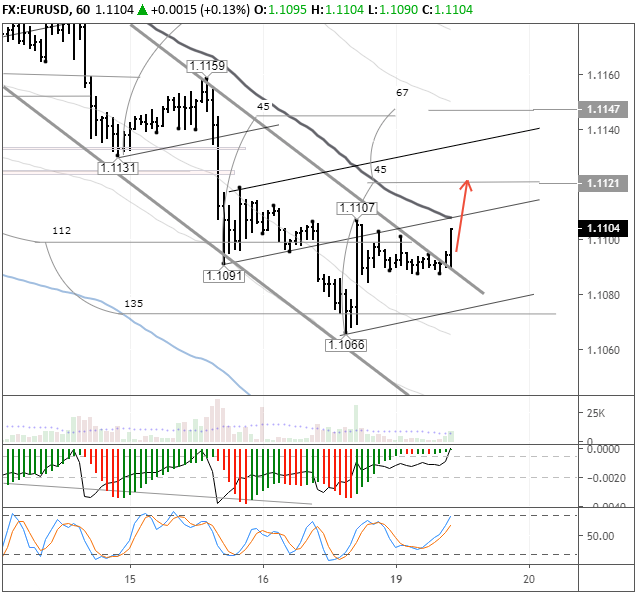 Current situation:
Trading in today's Asian session has been relatively quiet if we discount oil prices. Brent oil has jumped 1.4% to 59.35 USD per barrel. The increased appetite for risk was triggered by comments by Donald Trump and Larry Kudlow that they don't believe the US economy will go into recession. China's national bank has announced measures designed to allow free-floating exchange rates through regulating interest rates.
The euro has recovered to 1.1105. We expect the pair to rise to the 45th degree drawn from the 1.1065 low. The euro came under pressure on Friday after a drop on the EURGBP cross. The drop was halted by the 135th degree. Now it would be good to see a rise on the euro. Following the price drop within a complex wave structure, the minimum target for the euro now is the 67th degree.
Traders will now be turning their attention towards the FOMC minutes on Wednesday and commentary coming from the Jackson Hole symposium on Thursday and Friday.