Previous:
On Monday the 19th of August, trading on the euro closed down. The bulls were unable to keep the EURUSD pair in positive territory. The breakout of the trend line brought the rate down to 1.1076. At the beginning of the European session, the euro was being propped up by expectations that German would announce some fiscal stimulus measures.
Here we got some negative news. The German finance minister said that Germany may forego balancing the budget in favour of increased spending in the event of a recession.
In the evening, the euro dropped in response to remarks from the Federal Reserve's Eric Rosengren, who said that he doesn't currently see the case for rate slash, given the relative strength of the US economy and a lack of any serious threats. The Fed should focus more on economic statistics to determine the right time for a rate reduction.
Day's news (GMT 3):
13:00 UK: CBI industrial trends survey – orders (Aug).
15:30 Canada: manufacturing shipments (Jun).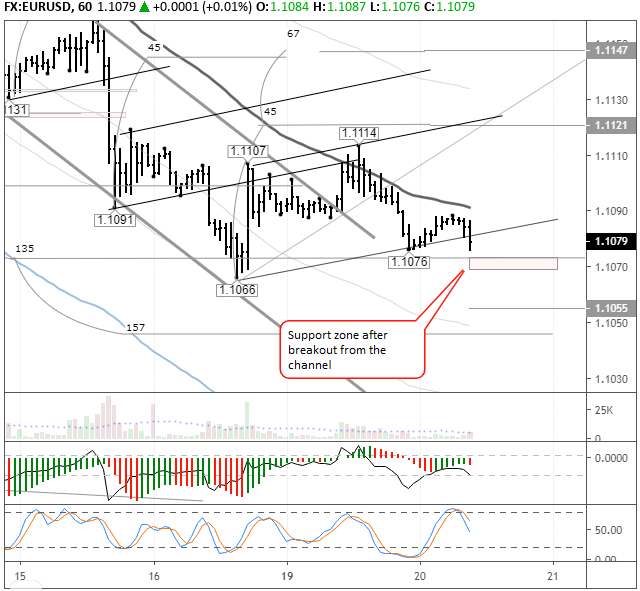 Current situation:
The bulls failed to get a foothold above the balance line. The resurgent dollar forced them to close the long positions they had opened ahead of the European session.
At the time of writing, the euro is trading at 1.1077 against the greenback. As it stands, only the pound and the euro are trading down. In today's Asian session, all the other majors are up against the dollar. Markets are still under pressure from the ECB's governing council member Rehn's remarks about the stimulus package being prepared for the Eurozone.
Investors now have their eyes fixed on the US, where the Federal Reserve will release the minutes of its latest meeting on Wednesday, followed by the annual conference at Jackson Hole from the 22nd to 24th of August, where Jerome Powell will speak.
Also note that the US Department of Commerce has granted an extension to telecoms giant Huawei that allows it to purchase supplies from US companies. Donald Trump has said that trade negotiations with China are set to continue.
Taking all these factors into account, it's reasonable to expect high market volatility during the week, which could further increase with the FOMC minutes and developments at Jackson Hole.
From a technical point of view, we've now got a contradictory picture on the EURUSD pair. On the chart, we've highlighted the zone of 1.1069 – 1.1075, as well as the 1.1055 mark. The stochastic has reversed downwards, so there's a high probability of a drop to 1.1069.
The 135th degree is a key level, so if we don't get a bounce here, the pair could slide as far as 1.1020. The majors paint a mixed picture, while the EURGBP cross is trading up. The bears could drag the market down and cash in on their short positions.