On Tuesday, August 20, EUR ended with an increase of 0.19%. The price touched base twice in 1.1066. The rebound was not bad, but quite weak to continue the recovery of the pair. The latest decline was caused by the resignation of Italian Prime Minister Giuseppe Conte due to the political crisis that erupted in the country.
The US dollar fell moderately against major currencies amid falling yields on US Treasury bonds to 1.5304% y/y. Market participants were also anticipating the publication of FOMC minutes and the Jackson Hole Symposium.
Scheduled events (GMT 3):
At 11:30 the UK will publish data on changes in net borrowed funds of the public sector in July.
At 15:30 in Canada, the consumer price index for July will be released.
At 17:00 the United States will publish data on changes in the volume of home sales in the secondary market in July.
At 17:30, the US Department of Energy will present data on changes in oil reserves for the week.
At 21:00 the minutes of the Fed meeting will be released.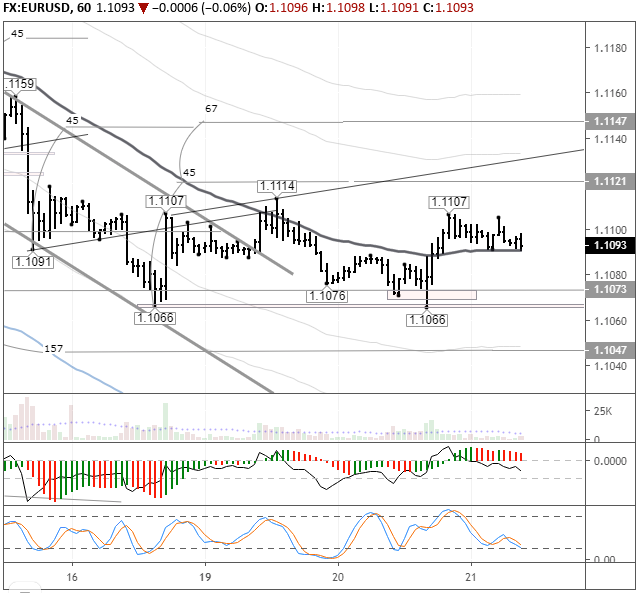 Current situation:
Sellers gathered around the support area on the 1.1070-1.1075 area. The price rebounded from the low of August 16 at 1.1066. Now the price is above the balance line. This is a good sign for buyers, but on Wednesday investors will be focused on the minutes of the meeting of the US Federal Reserve Open Market Committee. It is hardly worth expecting any volatility until 21:00 (GMT 3). Later the focus will shift to the US Federal Banking Conference in Jackson Hole (August 22-24) and the speech of the Fed Chairman Jerome Powell.
In Asia, almost all major currencies lost against the US dollar. At this moment, Euro is 1.1093 USD. Due to the protocols I can't make a forecast for today. We can only single out the range 1.1073-1.1116, in which some kind of consolidation is expected until 21:00. The balance line acts as support. Since the Stochastic Oscillator is in the buying zone, we expect that after about 1-2 hours the pair is likely to grow.
With the current pricing model on an hourly TF, it is more profitable for buyers to open positions at the level of 1.1120. It will be a good opportunity to change direction, closing longs and going short if the minutes will point out a further rates cut.