Previous:
On Thursday the 22nd of August, trading on the euro closed slightly down. It was a volatile day for the single currency. We got some sharp fluctuations in response to Angela Merkel's comments on Brexit, which pushed the pound up 150 pips against the US dollar. It later turned out that markets had misinterpreted her comments, and has opened long positions on the pound without verifying the information.
What Merkel said was that the EU and the UK may have time to find a solution by the 31st of October that would eliminate the need for the so-called Irish backstop. British media interpreted this as meaning that a solution would be found in time, although Merkel simply referenced the 31st of October as this is the date on which the UK intends to leave the EU.
The GBPUSD pair didn't fall back. The correction on the pound gathered pace today as the dollar made gains across the board.
Day's news (GMT 3):
15:30 Canada: retail sales (Jun).
17:00 US: new home sales (Jul).
20:00 US: Baker Hughes US oil rig count.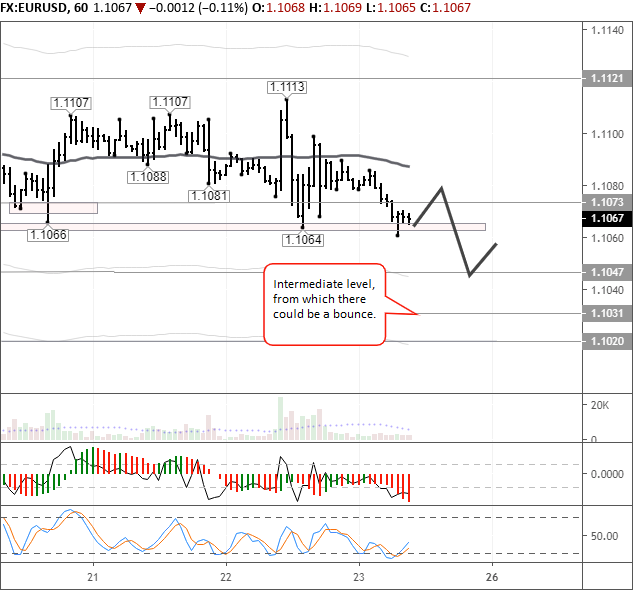 Current situation:
As expected, the pair remained within the sideways trend. The bears were held up by the 1.1066 support. Judging by the timing and the wave structure, there's an increased risk of dropping to 1.1047. Given that trading has been flat for the last 6 days, it's not worth considering a drop as far as 1.1020. It's better to highlight 1.1047 as an intermediate level, from which we could get a bounce.
Markets are in wait-and-see mode ahead of US Fed Chair Jerome Powell's speech in Jackson Hole. Nobody knows what he will say at the symposium, so if we don't get any news from the UK or Italy, markets should be calm up until 17:00 (GMT 3). There's a resistance level at 1.1088.