On Thursday the 29th of August, trading on the EURUSD pair closed down. The pair rose to 1.1093 during the US session following comments from ECB Governing Council member Klaas Knot, who said that the ECB currently has no need for a renewed QE program (according to a report by Bloomberg).
US data sent the euro down to new intraday lows. US GDP data showed a 2% rise in line with expectations. Germany's inflation report ensured that pressure on the euro remained, which posted a worse-than-expected reading for August.
Markets were boosted by reports that the US and China are discussing the possibility of continuing trade negotiations in September. China's Commerce Ministry spokesman Gao Feng told reporters that China will hold off on introducing any countermeasures to newly imposed tariffs from the US as they look to set the conditions necessary for both sides to continue negotiations.
This increased the appetite for risk among market participants, while safe haven assets such as the yen, franc, and gold, went into decline.
Day's news (GMT 3):
11:30 UK: net lending to individuals (Jul), M4 money supply (Jul), mortgage approvals (Jul).
12:00 Eurozone: CPI (Aug), unemployment rate (Jul).
15:30 Canada: GDP (Jun), industrial product price (Jul).
15:30 US: personal spending (Jul), personal income (Jul), personal consumption expenditures – price index (Jul).
16:45 US: Chicago PMI (Aug).
17:00 US: Michigan Consumer Sentiment Index (Aug).
23:00 US: Baker Hughes US oil rig count.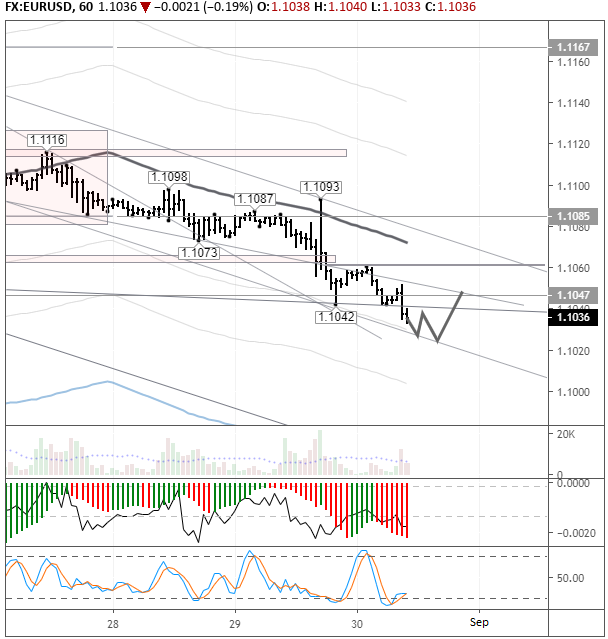 Current situation:
Yesterday's expectations were met in full; a drop to the 1.1065 support followed by a rebound. This was helped along by Klaas Knot. The drop below the support was not foreseen. The day closed below 1.1065.
The pair has hit fresh lows in today's Asian session. Despite an easing of tensions in the US-Sino trade conflict, the majors are trading down against the dollar. The safe havens have moved into positive territory (gold, yen). Markets are likely nervous given that the monthly candlestick is set to close, which is expected to bring with it high volatility. Be ready for some sharp fluctuations ahead of the weekend. In order for the bulls to gather their strength, they need to bring the rate back up to 1.1065. The technical picture doesn't look good for them as it stands. Don't be surprised if the pair drops as far as 1.10.