Last week, all the majors lost ground against the US dollar. The biggest loser was the Swiss franc (-1.51%), followed by the euro (-1.35%), the Kiwi dollar (-1.33%), the pound (-1.00%), the yen (-0.84%), the Aussie dollar (-0.25%), and the Canadian dollar (-0.19%).
On Friday the 30th of August, trading on the EURUSD pair closed down by 0.62%. Pressure on the euro came from expectations of easing monetary policy from the EU, as well as weak German data, uncertainty over Italy and Brexit, and the long weekend in the US. Ahead of US Labor Day, market activity was low, which intensified the EURUSD pair's decline.
Day's news (GMT 3):
10:30 Switzerland: SVME – PMI (Aug).
10:50 France: Markit manufacturing PMI (Aug).
10:55 Germany: Markit manufacturing PMI (Aug).
11:00 Eurozone: Markit manufacturing PMI (Aug).
11:30 UK: Markit manufacturing PMI (Aug).
24h US: Labor Day.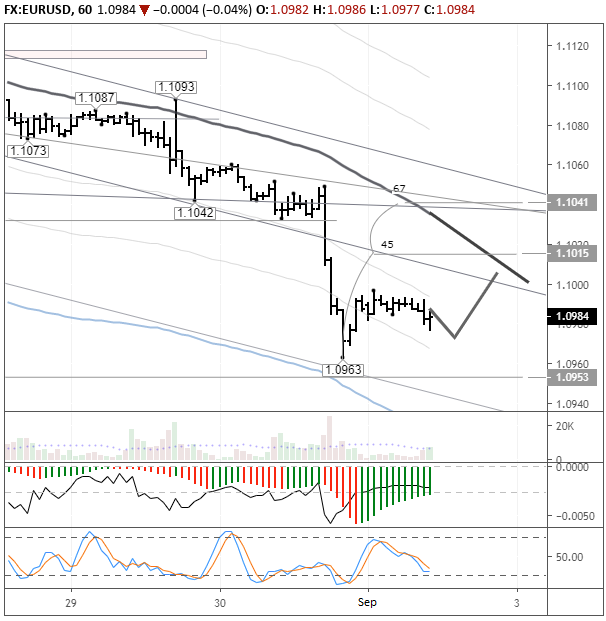 Current situation:
Before the week closed, the euro managed to recover to 1.0997. This followed a rise on the dollar and a drop on the yuan. This may have been what set the bears on the attack. Trading on the USDCNY pair opened today with an upwards gap. The US and China have both raised tariffs against one another. Trump decided not to reverse his decision despite talks planned for later this month.
Overall, trading in Asia is relatively calm. Since the euro suffered a sharp drop on Friday, today's forecast is looking upwards for movements against Friday's. On the current hour, the LB line runs through 1.1034. The growth forecast projected on the chart allows for a correction and shows a relatively slow recovery due to the fact that US traders are out of the picture for today.
The lows don't show any sign of a reversal, so once the pair meets the LB, we can expect a renewed decline. The difference between 5-year and 2- and 3-year bonds is in the red. 10-year bond are also lower than 2-year bonds, which signals an upcoming recession in the US economy.