On Friday the 20th of September, trading on the euro closed down. The euro dropped on the back of a rising US dollar, which was boosted by expectations that the Federal Reserve is not planning to raise interest rates this year.
Moreover, the market has shifted its attention towards the trade dispute between the US and China, with negotiators preparing for another round of talks between high-ranking officials, which is set to take place at the beginning of October.
There was an increased appetite for risk in the US session after the delegation of Chinese agriculture officials cancelled its trip to Montana. While investors are expecting progress to be made in the US-China trade dispute, they are nevertheless fearful that a deal may fall through. While it seems that the visit was called off as the result of aggressive rhetoric coming from the White House, the media will be told a different story.
Policy advisor Michael Pillsbury told the South China Morning Post in an interview that the US is preparing to increase pressure on China if Beijing and Washington fail to reach a new trade agreement. Tariffs on Chinese goods could be increased to 50% - 100%.
Day's news (GMT 3):
10:15 France: Markit manufacturing PMI (Sep), Markit services PMI (Sep).
10:30 Germany: Markit manufacturing PMI (Sep), Markit services PMI (Sep).
11:00 Eurozone: Markit manufacturing PMI (Sep), Markit services PMI (Sep).
13:00 Germany: German Buba monthly report.
15:30 Canada: wholesale sales (Jul).
15:30 US: Chicago Fed national activity index (Aug).
16:45 US: Markit manufacturing PMI (Sep), Markit services PMI (Sep).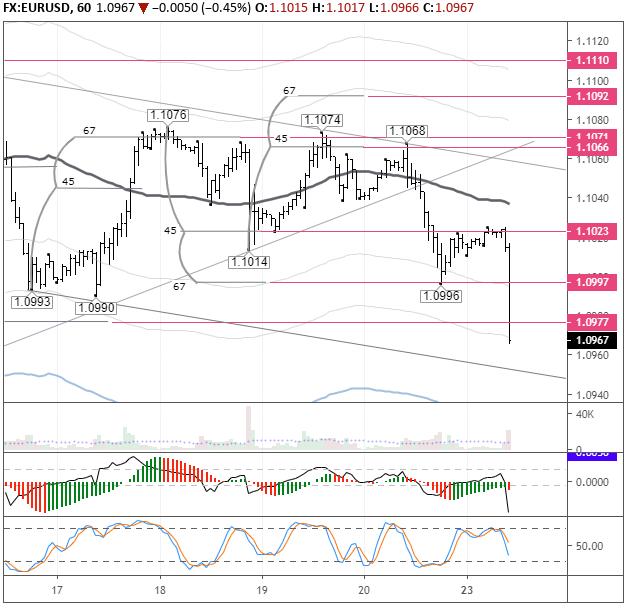 Current situation:
Our prediction that the pair would reach 1.1092 did not come to pass. This possibility was ruled out after the breakout of the trend line and balance line. Trading on the euro opened down on Monday. There's no important data coming out of Europe today. The euro shed 55 points (0.5%) against the dollar in the space of an hour. While we were tempted to predict today's movements to go against Friday's, given the upcoming talks between the US and China, it seems unlikely that the euro will make any gains today.
The pair is currently trading at 1.0968. The next targets for the bears are 1.0954 and 1.0926. These levels are currently providing support to the bulls. The last level is 1.0923, which is an average line (d3) with a 1% divergence from the LB. Judging by the mood among the bears, along with low buyer activity, we should reach this level.
Share: