On Monday the 30th of September, trading on the EURUSD pair closed down. The euro slipped after the publication of German inflation data as well as remarks from ECB head Mario Draghi, who made note of the fact that speculators have started reacting to his comments at other events, rather than only at ECB press conferences.
September's CPI turned out worse than expected and lower than the previous reading. Reduced inflation is a sign of an economic slowdown. Mario Draghi hinted that the ECB still has a few tricks up its sleeve that it can use to ease its monetary policy.
The single currency was put under additional pressure by the decline on the commodity currencies resulting from a 4% drop in oil prices.
Day's news (GMT 3):
10:30 Switzerland: SVME – PMI (Sep).
10:50 France: Markit manufacturing PMI (Sep).
10:55 Germany: Markit manufacturing PMI (Sep).
11:00 Eurozone: Markit manufacturing PMI (Sep).
11:30 UK: Markit manufacturing PMI (Sep).
12:00 Eurozone: CPI (Sep).
15:30 Canada: GDP (Jul).
16:45 US: Markit manufacturing PMI (Sep).
17:00 US: ISM manufacturing PMI (Sep), construction spending (Aug).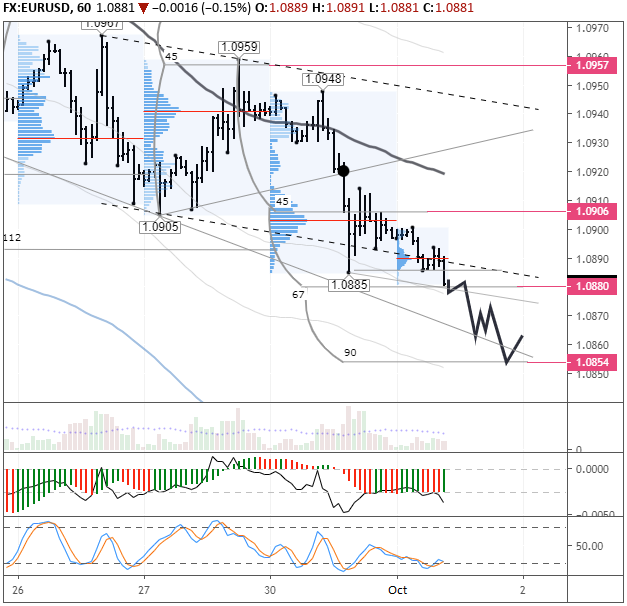 Current situation:
Expectations of a rise on Monday were denied. This possibility was ruled out with the pair's return to the balance line. With the breakout of 1.0920, the target of 1.0983 became untenable. In the space of 2 hours, the pair slid to 1.0885.
In the Asian session, the euro is trading at 1.0882. The bears are breaking through the downwards channel. Since the trend on the hourly timeframe is bearish, this drop could gather pace. The euro crosses are currently enjoying increased demand. They're currently propping the euro up against the dollar, but the technical picture doesn't look good for the bulls. The market is lacking any drivers for growth, or for increasing the number of buyers. We either need to see some big players show up, or for some bulls to come in to defend 1.0880 (67 degrees) and overpower the bears.
We expect to see a drop to the 90th degree at 1.0854. Just above this level is a line drawn through the 1.0966 (23/09) and 1.0905 (27/09) lows.
The pair has dropped to the 67th degree, a level from which we often see a correction. The bears came into play after the release of German inflation data. Eurozone inflation data is coming out today at 12:00 (GMT 3). We should expect some volatility here and then again at 17:00.