On Thursday the 3rd of October, trading on the EURUSD pair closed up by 0.05%. The day's candlestick shows a range of 58 pips.
The pair spent most of its time hovering around 1.0957 before shooting up in the US session. The rate jumped to 1.0999 after which the bulls erased all the gains.
The ISN non-manufacturing index came out at 52.6 (against a forecast of 55.0 and a previous reading of 56.4). This is the lowest it's been in three years. This has further justified investor fears over an impending economic slowdown.
Day's news (GMT 3):
15:30 US: unemployment rate (Sep), nonfarm payrolls (Sep), average hourly earnings (Sep), average weekly hours (Sep), trade balance (Aug).
15:30 Canada: imports (Aug), exports (Aug).
17:00 Canada: Ivey PMI (Sep).
20:00 Baker Hughes US oil rig count.
21:00 US: Fed's Chair Powell speech.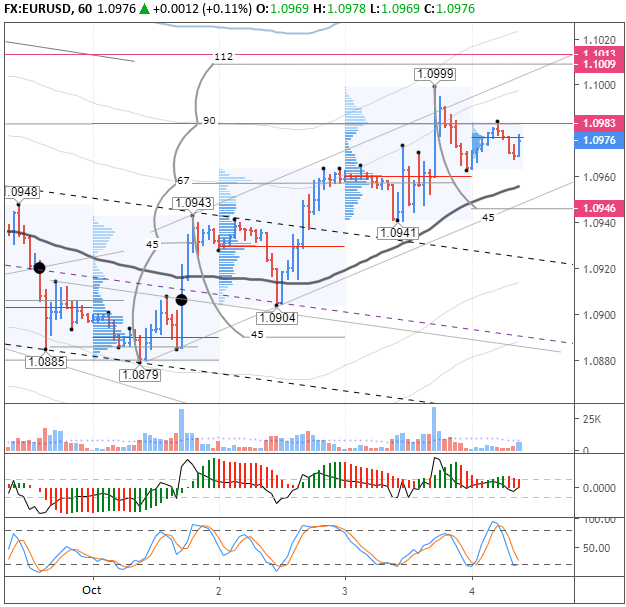 Current situation:
Yesterday was volatile, but the candlestick ended up closing with a small bullish body. Markets are awaiting the US jobs report. The NFP report is expected to record 140k new jobs added in September, against 130k the previous month. We think that markets are actually expecting a lower figure than 140k and that this has already been partially factored in.
Everyone is worried about the reaction to the report. No one knows what to expect. This is a very unpredictable indicator and the actual result almost invariably differs from projections by about 30 – 40k. This is just the average deviation, however, and it could easily differ by up to 100k. Moreover, we will also get revised readings for the previous 2 or 3 months.
The EURUSD pair is currently trading around the balance line (1.0956). Considering that when we get a rise on the euro, a sharp correction follows, it seems unlikely that the single currency will make significant ground against the US dollar. The 112th degree runs through 1.1009. The reaction to Jerome Powell's remarks is likely to be significant. Everybody wants to know how the Federal Reserve will respond to the weak ISM non-manufacturing index.