On Monday the 7th of October, trading on the EURUSD pair closed 0.06% down. The rate jumped to 1.1001 during the European session before slipping to 1.0969 during the US session. These fluctuations were brought about by weak German data, comments from Neil Kashkari, and uncertainty over US-Chinese trade talks.
The factory orders index in Germany dropped by 0.6% against a forecast of -0.3%. There's an increased likelihood of the German economy going into recession.
Minneapolis Fed President Neil Kashkari said that the Fed should continue to slash interest rates. This is a necessary measure to prevent risks to the economy and to grow wages. The next FOMC meeting is at the end of the month.
Negotiators began talks on the 7th of October ahead of the meeting between the Chinese Vice Premier and US Trade Representative, which is planned for Thursday. Reuters has reported that these talks are taking place amid a tense atmosphere, with neither side showing signs of compromise.
Day's news (GMT 3):
7:10 UK: BoE's Governor Carney speech.
15:15 Canada: housing starts (Sep).
15:30 Canada: building permits (Aug).
15:30 US: PPI (Sep).
21:30 US: Fed's Chair Powell speech.
23:30 US: API weekly crude oil stock (4 Oct).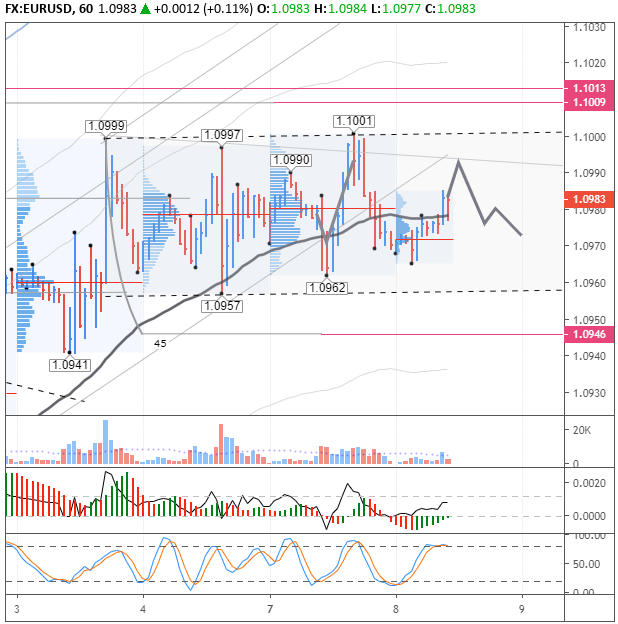 Current situation:
The pair reached its predicted target, only after a drop below the trend line. We allowed for a false breakout given the upcoming talks as well as the disappointing German data.
This week, attention is turned towards the publication of the FOMC minutes and the trade talks between the US and China (10th and 11th of October). US trade advisor Larry Kudlow has hinted that the two sides may make some progress during the negotiation process.
At the time of writing, the euro is trading at 1.0981. The pair is currently around the balance line. The formation from 1.0999 (03/10) has a bearish feel to it, but since geopolitics are currently taking centre stage, the pair could exit the 1.0958 – 1.1000 range in any direction. It's better to look at making trades at the boundaries of this channel. With the pair trading in the middle of the channel, there are high stop levels and a higher risk of triggering them.