On Thursday the 10th of October, trading on the EURUSD pair closed up. The rate rose to 1.1034 during the European session. Demand from the dollar fell amid optimism among investors that a deal would be reached between the US and China. Markets are expecting an interim deal to be struck.
China's Vice Premier Lui He said on Thursday that China is ready to make a deal with the US on matters that both sides care about in order to prevent the situation from escalating any further.
In the US session, the EURUSD pair came under pressure on account of the collapse on the EURGBP cross. The pair corrected from 1.1034 to 1.1002. Meanwhile, the pound surged by 250 pips, marking a 2% rise following renewed hope on the issue of Brexit. Irish Taoiseach Varadkar said that a Brexit deal is possible by the end of October that would see the UK undergo an orderly exit from the EU.
Day's news (GMT 3):
15:30 Canada: unemployment rate (Sep), net change in employment (Sep).
15:30 US: import price index (Sep).
17:00 US: Michigan consumer sentiment index (Oct).
20:00 US: Baker Hughes US oil rig count.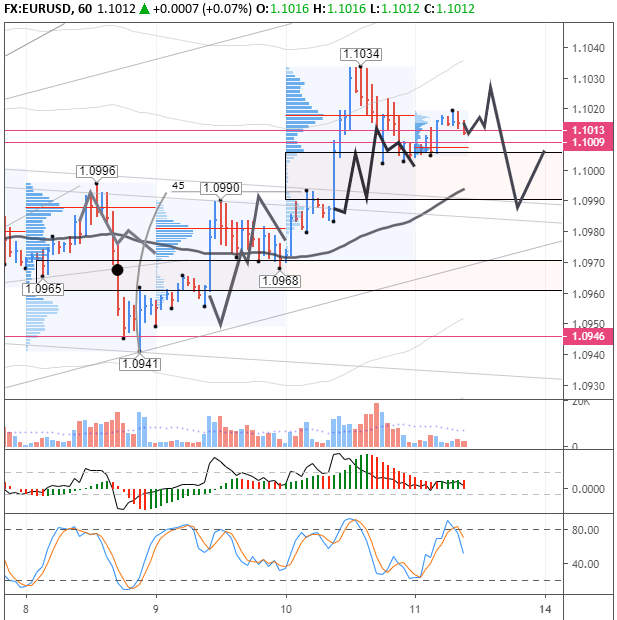 Current situation:
Today marks the end of the talks between the US and China. Macroeconomic data is therefore of secondary importance. Everyone except for traders using technical analysis is invested in the results of these talks. Nobody knows how they will end, but today we expect the bulls to cash in on their long positions. Buy on expectations, sell on the facts.
We expect the pair to visit 1.1028 followed by a decline to 1.0988. We've highlighted an imbalance zone between 1.0990 and 1.1005 according to yesterday's volume profile. 1.1005 is the VAL (Value Area Low). It's likely that if this level doesn't hold up, the pair will quickly slip to 1.0990.