All the majors rose against the US dollar last week, except for the safe havens. The biggest mover was the pound ( 2.54%), followed by the Canadian dollar ( 0.87%), the euro ( 054%), the Aussie dollar ( 0.35%), and finally the Kiwi dollar ( 0.33%). The yen dropped by 1.42% and the Swiss franc by 0.14%.
The US and China have concluded negotiations. US President Trump announced that a partial deal has been reached, which will be signed in the coming weeks. The agreement covers issues such as the purchase of agricultural produce, exchange rates, and intellectual property rights. The planned hike on import tariffs has been cancelled.
Markets had already factored in a positive end to the talks, so growth on the EURUSD pair was limited to 1.1063.
Day's news (GMT 3):
11:00 Eurozone: industrial production (Aug).
21:00 US: monthly budget statement (Sep).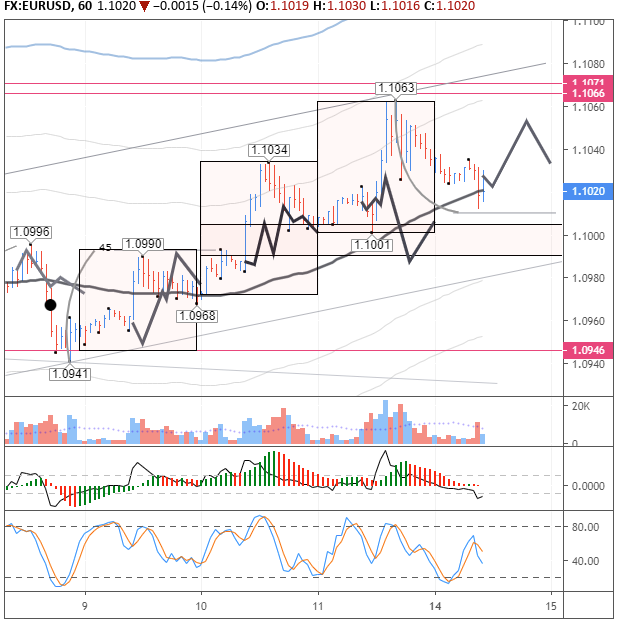 Current situation:
Trading on the euro has opened down in Europe. Since the negotiations between the US and China are over, there are no more factors for growth. The last three trading days have all had similar trajectories. It's unlikely that this pattern will be repeated again today. We're forecasting a recovery to 1.1050, where we expect traders to cash in on their long positions. It would be nice to then see the pair drop from the upper to the lower boundary of the channel. If the pair manages to stay above 1.10 over the next couple of days, then we can entertain the possibility of a breakout towards 1.11.