The US and Canada had a national holiday on Monday. Market activity was low. The major currencies fluctuated within limited ranges. The EURUSD traded within a range of 1.1013 to 1.1043 (30 pips). By the end of the day, the trading range has narrowed to 13 pips.
Day's news (GMT 3):
09:30 Switzerland: producer and import prices (Sep).
09:45 France: CPI (Sep).
11:30 UK: claimant count rate (Sep), ILO unemployment rate (Aug), average earnings (Aug).
12:00 Germany: ZEW survey – economic sentiment (Oct).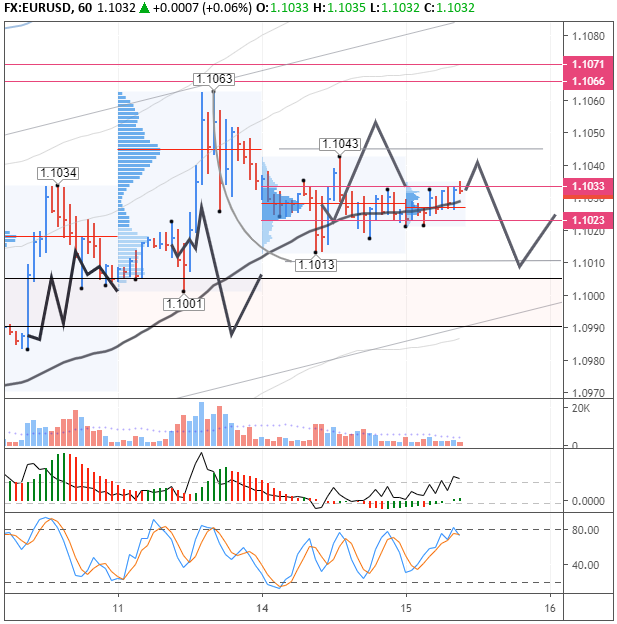 Current situation:
We forecasted a wide trading range yesterday amid the US and Canadian national holidays, but it turned out narrower than expected with the pair hovering around the balance line. The volume profile filled the void from the 11th of October. This suggests that the market is ready to push the rate to new levels.
There's a support zone between 1.1005 and 1.1013. If this falls, the trend line will be tested. It currently runs through 1.0990.
The stochastic is in the sell zone, so we expect the rate to drop to the 45th degree at 1.1009 after an initial rise to 1.1042. Today's major economic event is the employment report from the UK. It's important for the pound, so expect a surge in volatility at 11:30 (GMT 3) on GBP pairs. The EURGBP pair will have a ripple effect on the EURUSD. After a test of the 45th degree, we can expect a renewed rally.