On Tuesday the 15th of October, trading on the euro closed slightly up. The bulls managed to recover the losses incurred in the first half of the European session. The pair's recovery was sparked by news on Brexit.
Irish Taoiseach Leo Varadkar said that progress has been made in the Brexit talks while lauding the EU's flexible approach. Markets have started factoring in that a deal will be reached this week based on comments from chief EU negotiator Michel Barnier. The pound rose across the board following these developments.
Barnier later clarified that talk of a Brexit deal being reached was premature. The pound underwent a small correction while trading on the EURUSD pair went flat at around 1.1033.
Day's news (GMT 3):
11:30 UK: CPI (Sep), retail price index (Sep), PPI output (Sep), PPI input (Sep).
12:00 Eurozone: CPI (Sep), trade balance (Aug).
15:30 Canada: CPI (Sep).
15:30 US: retail sales (Sep).
17:00 US: business inventories (Aug), NAHB housing market index (Oct).
21:00 US: Fed's Beige Book.
23:00 US: net long-term TIC flows (Aug).
23:30 US: API weekly crude oil stock (11 Oct).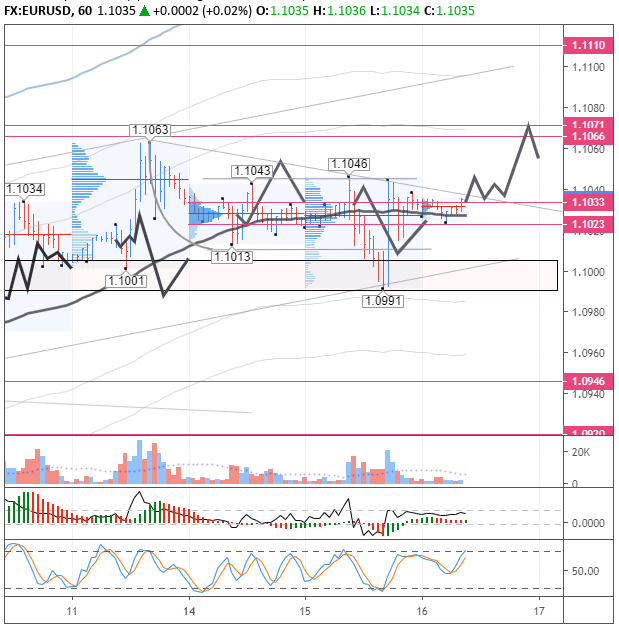 Current situation:
Yesterday's expectations were met. The pair dropped to the trend line. In Asia, the bulls broke the 1.1038 resistance before running out of steam at 1.1060. The bulls on our main pair have been boosted by the pound, which is currently dictating movements on all the majors. There is one cause for concern. The optimism over a deal being reached between the US and China has subsided. On the 15th of October, the yuan dropped 0.2% against the US dollar, falling a further 0.30% on the 16th to reach 7.10. Pressure is building. In response to the yuan's drop, gold and yen have risen.
Today we expect to see a rise to 1.1070. With some strong economic data today, the pair could rise even further, but with the euro crosses under pressure, we could get some bearish impetus. If the pair drops below 1.1023 (if the hourly candlestick closes below this level), this will overturn our forecast.