On Thursday the 17th of October, trading on the euro closed up. The rally restarted in the European session over reports that EU leaders have approved a Brexit deal. This deal will now be voted on by the European and British parliaments with votes planned for Saturday. There are fears that the deal will get voted down in the UK parliament. These fears caused the pound to erase its daily gains. The euro has bolstered its position thanks to the EURGBP cross.
Day's news:
11:00 Eurozone: current account (Aug).
13:00 UK: European Council summit on Brexit.
20:00 US: Baker Hughes US oil rig count.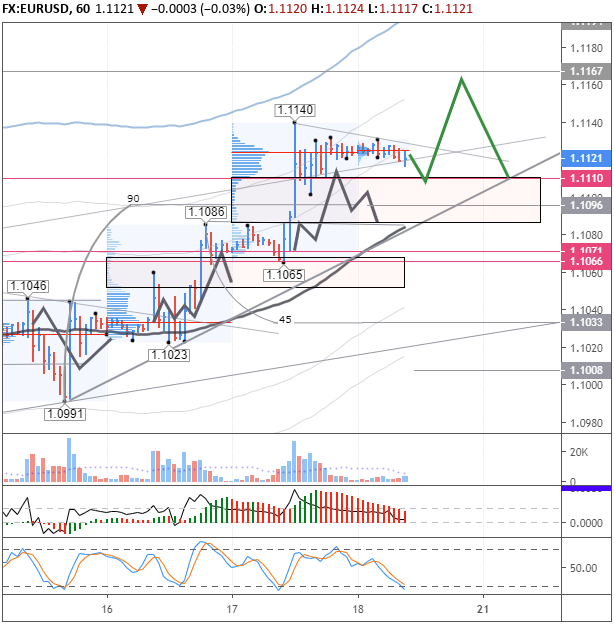 Current situation:
The pair rose to the upper line of the channel just as expected. The increased appetite for risk saw the rate rise to 1.1140. The pair has now been consolidating for 22 hours. The market is now braced for some sharp movements. Brexit and the US-China trade deal remain at the forefront of traders' minds.
The Democratic Unionist Party and Scottish National Party have both publicly announced their opposition to the deal, so markets are in for some turbulent times through the end of the month.
We reckon that the rise to 1.1140 is not the end of the upwards movement. We expect the pair to rise to 1.1163 followed by a correction to the trend line at 1.1110 as the bulls cash in on their long positions. It's essential to keep an eye on the news. The future direction of the majors will be determined by the reaction to geopolitical developments rather than by technical analysis. However, analysis can help to identify entry and exit points. Today is Friday, so volatility should remain high until trading closes in Europe.