On Tuesday the 22nd of October, trading on the euro closed down. Trading on the US dollar was mixed during the European session, which was brought about by uncertainty over Brexit on the eve of a crucial vote on the withdrawal agreement by the British parliament. The euro dropped to 1.1123 before recovering to 1.1154.
Towards the end of the day, the pound slumped after British lawmakers rejected the government's Brexit timetable. This sent the euro down to 1.1118.
Day's news (GMT 3):
15:30 Canada: wholesale sales (Aug).
16:00 US: housing price index (Aug).
17:00 Eurozone: consumer confidence (Oct).
17:30 US: EIA crude oil stocks change (18 Oct).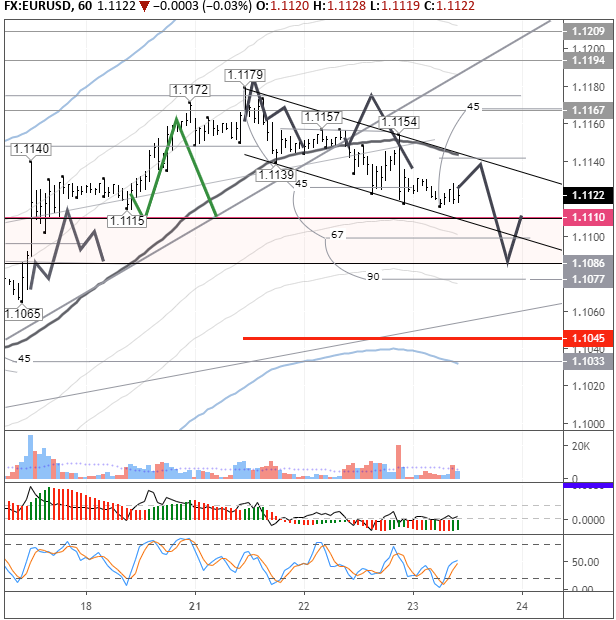 Current situation:
On Tuesday, we were expecting a breakout of the trend line during the US session. The bears broke through it at the beginning of the European session. At the time of writing, the euro is trading at 1.1118. A downwards channel has formed. Since the stochastic oscillator is looking up, we expect the pair to rise to the upper line of the downwards channel (22nd degree at 1.1140) at the beginning of today's European session. In the US session, we expect the pair to drop to 1.1087.
Why should the rate gather downwards momentum after 1.1110?
On the 17th of October, the range of 1.1085 to 1.1110 acted as a sort of destabilisation zone. Bulls passed through this range very quickly, and in some places there were very low trading volumes. As such, if 1.1110 doesn't manage to withstand the bears, the pair will quickly fall to 1.11087, which would cover the destabilisation zone judging by the volume profile from the 17th of October.
Trading is currently being dictated by developments on Brexit as well as on the US-China trade deal. Investors expect the UK to exit the EU with a deal, and for Trump to conclude a trade agreement with China. Le Yucheng, the Chinese Executive Vice-Minister of Foreign Affairs, has announced that China and the US have made significant progress in the trade talks.
When the pair reaches the balance line, the upper line of the channel, and the 22nd degree, we need to keep an eye on the crosses. If they are rising at the time, then of course it's best to refrain from shorting the euro. Since the trend is still bullish, we should wait for a signal at around 1.1140 to go short. Unless this happens, selling is a risk, so one should either wait, or trade with limited volumes.