Last week, all the majors declined against the US dollar except for the Canadian dollar. The biggest loser was the pound (-1.17%), followed by the Swiss franc (-1.01%), the euro (-0.81%), the Kiwi dollar (-0.56%), the Aussie dollar (-0.53%), and the yen (-0.26%). The Canadian dollar rose by 0.49%.
On Friday the 25th of October, trading on the EURUSD pair closed down at 1.1079 on the back of a broadly stronger dollar. Traders adjusted their open positions ahead of the FOMC meeting, as well in the midst of Brexit uncertainty.
Day's news (GMT 3):
12:00 Eurozone: M3 money supply (Sep), private loans (Sep).
14:00 UK: CBI distributive trades survey – realized (Oct).
15:30 US: goods trade balance (Sep), Chicago Fed national activity index (Sep).
18:00 Eurozone: ECB's President Draghi speech.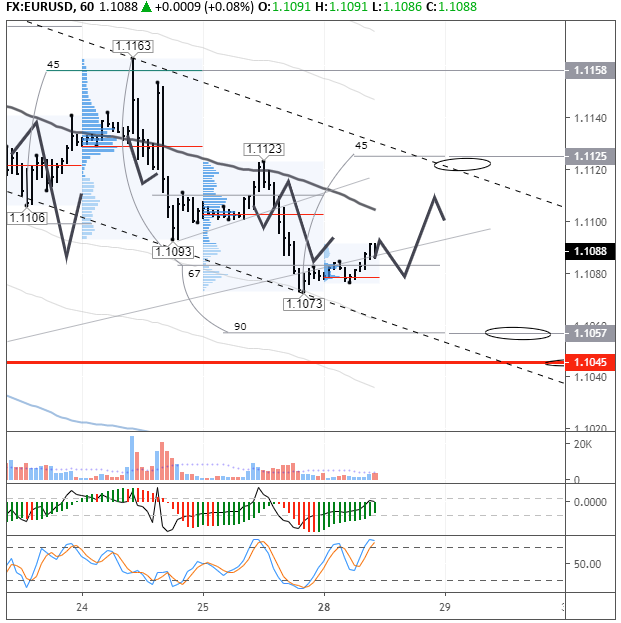 Current situation:
Friday's expectations were met. The pair recovered to the balance line during the European session before dropping to 1.1073.
At the time of writing, the euro is trading at 1.1086. We expect a rise to 1.1111 before the day is out. Since the H1 and H4 timeframes contradict one another, we expect the pair to drop to 1.1079 before rising. The expected growth is an anticipated correction to the drop from 1.1180 to 1.1073. The downwards target is 1.1045.
The bears failed to get a foothold beneath the trend line, so we can ignore this now. They need a run up to get enough momentum for this, so now we're looking for a bounce to the LB line.
Centre stage this week will be Brexit, the FOMC meeting, and Friday's US jobs report.
British parliament will hold a vote today on a snap parliamentary election on the 12th of December. The EURGBP pair will exert its influence on our main pair, so keep an eye out for developments on this front.
The EU27 have agreed to another Brexit extension. The US regulator will make a decision on interest rates on Wednesday. Markets expect a 25-base-point reduction to the key rate. The US and China are in the final stages of negotiations and are close to concluding a deal.
Share: