On Monday the 28th of October, trading on the euro closed up. This was probably a technical correction following Friday's drop. This correction was partly the result of traders adjusting their positions ahead of the FOMC meeting.
European Council President Donald Tusk announced that the EU27 have approved a Brexit extension to the 31st of January. Today, this decision should be confirmed at government level in each member state. Is this good? No, because this is now the third time the Brexit date has been moved. The fewer delays we get, the quicker the UK will exit the EU, and deferring the exit date means that the uncertainty continues.
Day's news (GMT 3):
10:45 France: consumer confidence (Oct).
12:30 UK: net lending to individuals (Sep), M4 money supply (Sep), mortgage approvals (Sep).
16:00 US: S&P/Case-Shiller home price indices (Aug).
17:00 US: consumer confidence (Oct), pending home sales (Sep).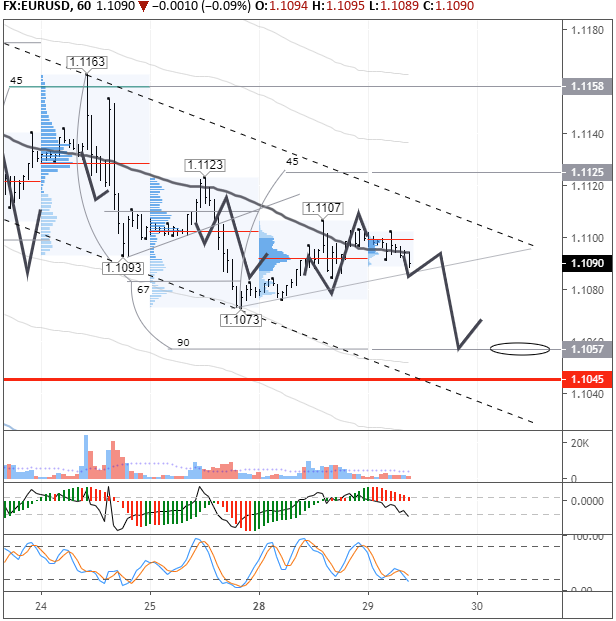 Current situation:
The pair moved as predicted, although with a slight divergence. The correction allowed the indicators to unload, and now the pair has its sights set on 1.1057. The pair is currently trading at 1.1090. The euro should gather some downwards pace when the rate drops below 1.1085. There are some divergences between timeframes, so we should get a small bounce from the trend line.
The FOMC is holding a meeting this week. The US regulator is expected to slash interest rates by 25 base points for the third time this year. The probability of this happening is put at 94.1%.