On Wednesday the 30th of October, trading on the euro closed 0.36% up. Volatility was very high during the US session. It initially rose following the release of GDP data for Q3, which at 1.9% year-on-year was higher than expected. The pair then shot up over rumours that the US-China would be delayed and then aw Jerome Powell took the stage.
Chile has cancelled the upcoming APEC summit over internal unrest. This has been planned for November, where leaders from the US and China were expected to convene and finalise a trade deal. The news took its toll on risky assets.
The Fed lowered the Federal Funds Rate by 0.25% to 1.50 – 1.75%. The US dollar reacted with a modest rise since the rate slash had already been factored in by the market with a 95% certainty. During Fed Chair Jerome Powell's speech, the dollar lost ground on all fronts. He hinted that there would be a pause following the third rate reduction of 2019. The euro jumped from 1.1080 to 1.1171 ( 91 pips).
Day's news (GMT 3):
13:00 Eurozone: GDP (Q3), CPI (Oct), unemployment rate (Sep).
15:30 Canada: GDP (Aug).
15:30 US: personal income (Sep), personal spending (Sep), initial jobless claims (25 Oct).
16:45 US: Chicago PMI (Oct).
18:30 Switzerland: SNB's Chair Jordan speech.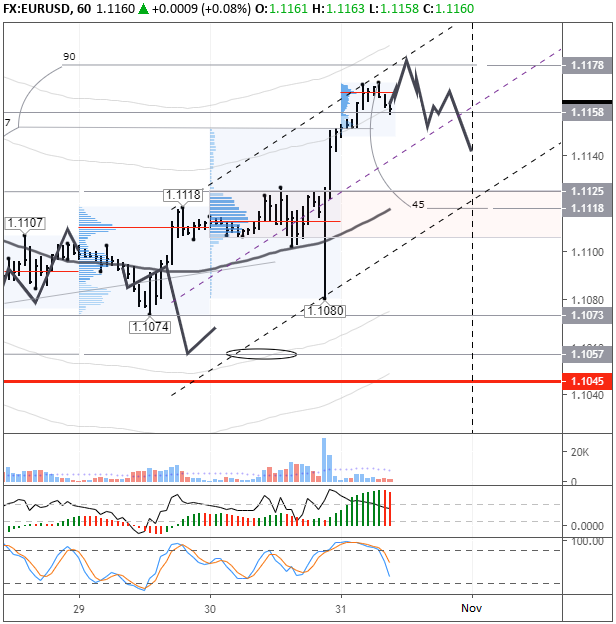 Current situation:
At the time of writing, the euro is trading at 1.1158. The US has calmed investor fears by reassuring everyone that the timetable for finalising a deal with Chine remains the same. News of the summit being cancelled shouldn't trigger a retreat towards safe haven assets. Nevertheless, we expect to see a downwards correction on the euro today.
Today we expect to see a rise to the 90th degree at 1.1178 followed by a rebound downwards. There are some slight divergences between the 15 and 60-minute timeframes, so the drop will take place after 1.1071 is tested.
The pair recovered by 90 pips in the US session. This is quite a big move for the euro, so without any additional impetus, this growth is unlikely to continue. Don't forget that US GDP came out higher than expected. The NFP report comes out on Friday, for which preparations are essential. At 13:00 (EET) today, the Eurozone will release its GDP figures. This should provide further direction for our pair.