On Tuesday the 19th of November, trading on the euro closed six points up. The trend line kept away from 1.0989, but was broken on Wednesday in Asian trading. Yesterday was a day of mixed news for the markets, so investors were unsure which currency to stick with until the end of the week.
Yesterday, US authorities extended Chinese technology firm Huawei's license for another 90 days. This news had a positive impact on the stock market. At the same time, according to CNBC, the Chinese side is not sure that a trade agreement with the United States will reach an amicable conclusion. This information saw many traders go into protective assets.

Also, the price of oil fell. Brent fell by 3% following a report from Reuters that Russia does not plan to approve a further reduction in oil production at the upcoming December 5 OPEC meeting. The news also had a negative effect on the price of the Canadian dollar (CAD).
Day's news (GMT 3):
12:00 Eurozone: EU Financial Stability Review.
16:30 Canada: Consumer Price Index (MoM) (Oct).
18:30 USA: EIA Crude Oil Stocks Change (Nov 15).
22:00 USA: FOMC Minutes.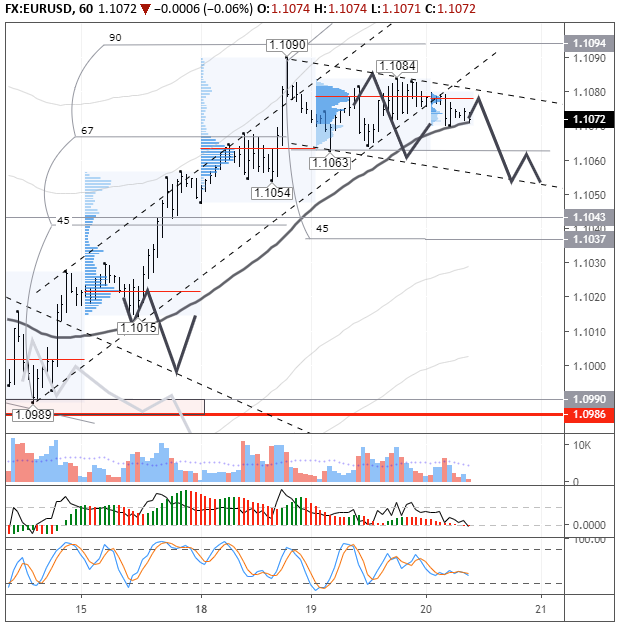 Current situation:
On Tuesday, the euro fell to 1.1064 - the target was set at 1.1061. Yesterday, the trend line held back the single currency; today, sellers broke through it. The price met with the Lb at 1.1070 - the balance line acts as support. After the breakdown of the trend line, the target was repositioned to 1.1051.

China has protested against the United States' approval of the Hong Kong bill. The Ministry of Foreign Affairs of China and the Hong Kong administration called it interference in Chinese affairs and a violation of international laws. The current situation could negatively affect negotiations and the signing of a trade agreement between the United States and China. This means we need to think about dropping risky assets and will see a fall in the EURUSD pair. For the future, 1.0989 looks like a good point to leave at.

Today, we are on the lookout for news from China and FOMC protocols are still in the spotlight.