On Monday the 25th of November, the euro finished five points down come the end of trading. The single currency was pushed down to the 1.10 mark by a buoyant GBP. At the end of the day, the GBPUSD pair finished up by 70 points. The driving force behind the pound's strength has been the positive news coming out of Westminster as regards the upcoming UK General Election. The Conservatives are confidently ahead in the latest polls, and this helps to reduce feelings of uncertainty towards the future within the industry.
Monday was a slow day, as underlined by yesterday's relatively scarce economic calendar. As a result, the consolidation range moved from 1.1023 to 1.1010. With that said, let's move on to the technical analysis.
Day's news (GMT 3):
12:30 UK: BBA Loans for House Purchase (Oct).
16:30 USA: Advance Goods Trade Balance (Oct).
17:00 USA: S&P/Case-Shiller US Home Price Index (Sep).
21:00 USA: Fed's Brainard Discusses Policy Framework Review, U.S. to Sell 2-Year FRNs Reopening, U.S. to Sell 5-Year Notes.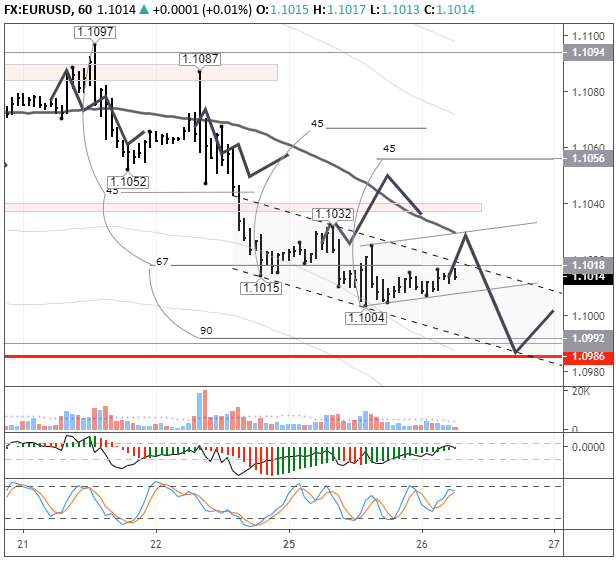 Current situation:
Our expectations for the "Monday vs. Friday" movement failed to materialise. The latest political news out of the UK increased interest in the British pound. As a result of these events, the single currency found itself under pressure and trades passed under the 67th degree marker (Gann level).
Improved US-China relations brought an upturn in market sentiment in both the stock markets, and in pairs containing risky assets. The "bullish" mood did not alter the EURUSD pair's technical picture, which remained "bearish".
How should you act in this situation? Well, if you do not understand what is happening on the market, then reduce the risk factor of your transactions, or wait for another market situation to arise.
The price is below the balance line (LB), which goes through 1.1029. If a channel is constructed by correction, then its upper line meets the LB at 1.1030. Since the stochastic on 4H and 8H is looking up, we can allow a breakthrough to the LB. Disagreements between timeframes (TF) are set to be a key factor today. The older the TF, the stronger the effect.
But, also bear in mind that changes in the younger TFs also influence the situation with the older TFs. For example, if negative changes take place at the cellular level, then most likely your condition and mood will change for the worse, due to poor health. Since the stochastic on the hourly TF is on top, we might even dare to consider a fall to 1.0990 - the bottom line of the channel.