On Thursday the 28th of November, trading on the euro ended in a nine-point increase for the single currency. Due to the Thanksgiving holiday in the United States and the subsequent lower level of activity by traders, bulls were unable to break through to the 1.1030 mark. Although, all of the necessary technical conditions for a recovery have now been met. In the US session, the pair was trading at 1.1010.
Day's news (GMT 3):
10:45 France: Gross Domestic Product (QoQ) (Q3), Consumer Spending (MoM) (Oct), Consumer Price Index (EU norm) (MoM) (Nov).
11:00 Switzerland: KOF Leading Indicator (Nov).
11:55 Germany: Unemployment Rate s.a. (Nov).
12:30 UK: Net Lending to Individuals (MoM) (Oct), M4 Money Supply (MoM) (Oct), Mortgage Approvals (Oct).
13:00 Eurozone: Consumer Price Index - Core (YoY) (Nov), Unemployment Rate (Oct).
16:30 Canada: Gross Domestic Product Annualized (QoQ) (Q3), Industrial Product Price (MoM) (Oct).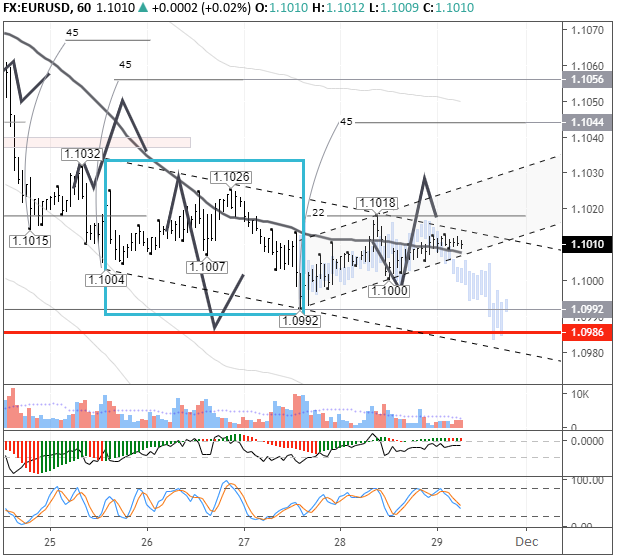 Current situation:
The market continues to be influenced by news coming out of the UK, Hong Kong and China. The pound sterling (GBP) is being temporarily boosted by YouGov, a company which publishes the results of public opinion polls ahead of parliamentary elections, which will be held on December 12. The latest results point heavily towards a Conservative Party parliamentary majority. GBP will hope to find a foothold on the back of this news.
The "trade war" between China and the United States also remains in the focus of market players. Investors fear that the Chinese could pull out of the deal in protest after US President Donald Trump signed a law aimed at supporting protesters in Hong Kong. China condemned the actions of the United States, but is keeping its hand close to its chest as the trade agreement negotiations draw to a close.
Today is a shorter working day in the US. Most likely, trading activity will remain at a low level. No forecast was made, as bulls can still bump the price to 1.1030. Yesterday, resistance was met at the 22nd degree and it's fair to say that main level for upwards correction is at the 45th degree ­- 1.1044.