On Friday the 29th of November, the euro was up at the end of trading. It was a short day in the USA, and therefore the volume of trading operations on the market was relatively low. In the thin market, the EURUSD pair set its new weekly low at 1.0981, as well as a new daily high of 1.1028. There were no significant news items published to explain the rebound.
Day's news (GMT 3):
11:55 Germany: Markit Manufacturing PMI (Nov).
12:30 UK: Markit Manufacturing PMI (Nov).
17:00 Eurozone: ECB's President Lagarde speech.
18:00 USA: ISM Manufacturing PMI (Nov).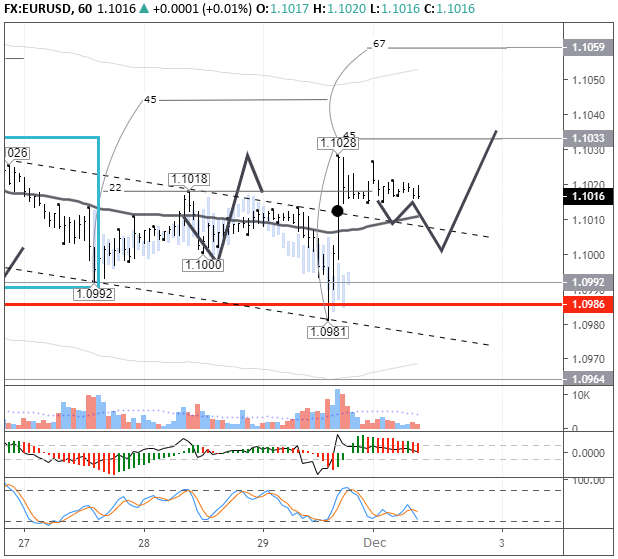 Current situation:
Markets opened with growth amid the release of strong Chinese statistics on Saturday. The official index of business activity in the manufacturing sector in China in November rose to 50.2 from 49.3 points. In the morning, China Ccaixin/IHS Markit PMI came out. The index rose to 51.8 against October's figure of 51.7.
Growth was limited because it was reported that ongoing negotiations aimed at reaching a US-China trade agreement had been suspended due to the passing of the United States Democracy and Human Rights Act in Hong Kong. This was announced on Sunday by the information portal Axios, citing its sources in the Washington administration.
Today, traders' attention is aimed at the upcoming  UK general election, which will take place in two weeks. At 17:00 (Moscow time), a speech will be made by the head of the ECB Christine Lagarde. In the US, the ISM in the manufacturing sector will be released (November).
According to the forecast, we are expecting a correction to Friday's growth to 1.1002. The fall may stop at 1.1010. There, most likely, the balance line will provide support. Since Friday, buyers were able to exceed the highs of 1.1013 and 1.1018, and it could be interesting to consider pullbacks to enter long positions. The initial target is the 45th degree - 1.1033. This week is full of important events: decisions on the interest rate of the RBA and the Bank of Canada, a change in Australia's GDP, as well as payrolls (the US labour market).