On Tuesday the 3rd of December, the EURUSD pair was three points up at the end of trading. For many market players, the behavior of yesterday's market was a bit strange, given that Trump has no deadline for the signing of the trade agreement with China - in any case, the signing of the deal could well be delayed until the conclusion of the 2020 US presidential election.
Trump also accused Brazil and Argentina of devaluing their national currencies to harm US farmers. In retaliation, he decided to raise duties levied on these countries. As before, the focus was on France and its plans surrounding digital service tax.

The yen, Swiss franc and gold all rose in price, while the yuan fell. Everything is clear with protective assets, but not at all with the euro.
Day's news (GMT 3):
16:15 USA: ADP Employment Change (Nov).
17:45 USA: Markit Services PMI (Nov).
18:00 Canada: BoC Rate Statement, BoC Interest Rate Decision.
18:00 USA: ISM Non-Manufacturing PMI (Nov).
18:30 USA: EIA Crude Oil Stocks Change (Nov 29).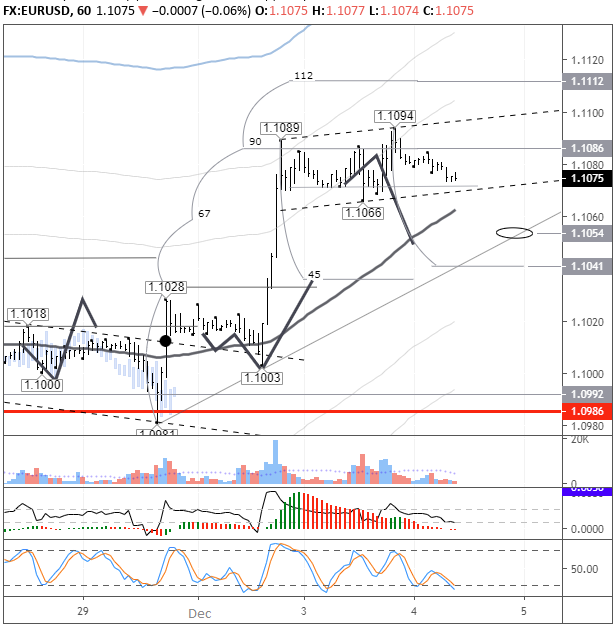 Current situation:
On Tuesday, the pair was expected to fall to 1.1050. At the beginning of the European session, bears failed to gain a foothold below 1.1070. A new downwards correction began at 1.1094 after the previous high was increased by five points.

Geopolitics nullifies the signals of technical analysis and it is unknown what else to expect from Trump and how Brazil, Argentina and China will respond. In response to the latest US sanctions bill against Chinese officials, the editor of the Chinese newspaper Global Times said US politicians with stakes in China should tread carefully. The West sees the paper as the main oracle into China's foreign policy. His tweet alone is capable of significantly reduce the stock prices of large US companies.

Today, the European economic calendar looks fairly sparse. Market players are focusing on US ADP employment data, the ISM service index, and the upcoming Bank of Canada meeting.

If the signing of the trade agreement between the United States and China is postponed until next year, then new, increased duties on Chinese imports will come into force on December 15. Market players understand that exactly such an agreement was originally in place. If the two parties fail to conclude the deal before this time, the new tariffs will come into effect. If that is going to be the case, then at the moment there is no reason to predict a strong strengthening of the euro until Friday.

Today, supports are at two levels for the European currency: 1.1070 and 1.1054. The latter support level is located on the trend line and is the target according to yesterday's forecast, there are no changes here. For buyers, the target is 1.1112 (112th degree).