On Friday the 6th of December, the EURUSD price was down at the close of trading. The weakening of the single currency was the result of encouraging data being published, which concerned the US labour market. This reinforced the Fed's position of maintaining the current level of interest rates at the upcoming meeting, scheduled to take place on Wednesday, December 11.
The number of jobs in the non-agricultural sector increased by 266,000 against the forecast of 180,000. The figure for September was revised from 180,000 to over 193,000, and October from 128,000 to 156,000. The revision totaled an increase of more than 41,000.
The unemployment rate dropped to 3.5% (forecast was 3.6%), wages decreased by 0.2% (forecast was 0.3% vs. the previous value of 0.4%). The proportion of economically active members of the population decreased to 63.2% from 63.3%. Once again, we note that there is no correlation between ADP and NFP.
The positive data regarding the US labour market was supported by the business activity index in Michigan, which was above the forecasted level. Statistics aroused optimism among stock market investors and supported the USD. The euro fell to 1.1040. The euro fell badly versus the Canadian dollar, because it was sold off across all crosses.
Day's news (GMT 3):
09:45 Switzerland: Unemployment Rate s.a (MoM) (Nov).
10:00 Germany: Exports (MoM) (Oct).
12:30 Eurozone: Sentix Investor Confidence (Dec).
16:15 Canada: Housing Starts s.a (YoY) (Nov).
16:30 Canada: Building Permits (MoM) (Oct).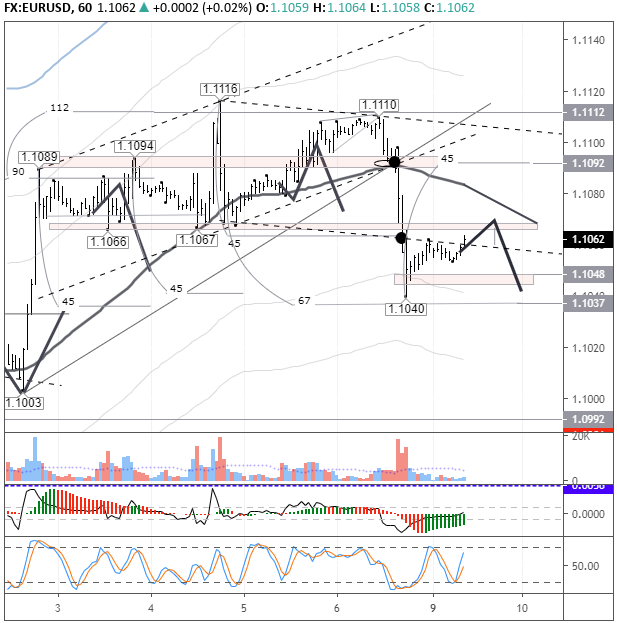 Current situation:
The fall stopped at around the 67th degree, after the currency fell 58 points. Similar data taken from the 2000s shows that back then, the price fluctuations were 250-300 points. At the time of writing, the euro is valued at 1.1061. According to the forecast, we are waiting for a correction to the balance line. If the price starts to wander around the area of ​​1.1068-1.1070, you need to look out for the activity of both the bulls and bears. If there is no quick recovery, then after 17:00 (GMT 3), we can expect the price to fall.
This week is full of important events. Britain and Japan will publish third quarter GDP data. The Fed, SNB and the ECB will hold meetings regarding interest rate levels. Then, after the meetings, ECB President K. Largad, SNB President T. Jordan and US Federal Reserve Chairman J. Powell will give press conferences.
Given that on Wednesday, the US Federal Reserve looks nailed on to maintain its current rates, and K. Largad generally adheres to a soft monetary policy, it can be assumed that by Thursday, the euro will still hit a new high. The 1.1025-1.1030 zone is a key support. If it holds up, we will see a sharp rebound upwards.