On Monday the 9th of December, the euro was up four points at the closing time. After Friday's NFP, Forex activity was low at the beginning of the week. In the first half of the European session, the EURUSD pair recovered to 1.1078, in the second half it fell to 1.1055. At the time of writing, the price is consolidating at 1.1066.
Today's news (GMT 3):
12:30 UK: Gross Domestic Product (MoM) (Oct), Manufacturing Production (MoM) (Oct), Goods Trade Balance (Oct), Industrial Production (MoM) (Oct).
13:00 Germany & Eurozone: ZEW Survey - Economic Sentiment (Dec)
16:00 UK: NIESR GDP Estimate (3M) (Nov).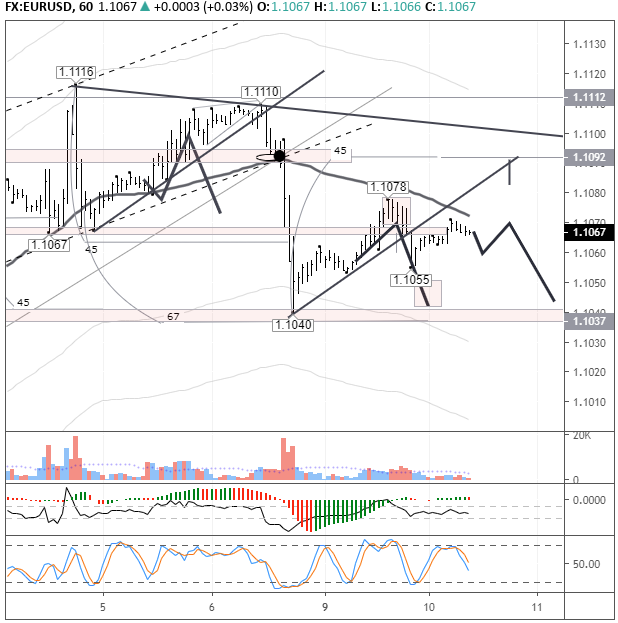 Current situation:
Bears did not realise their targeted increase of 13 points, and their aim of reaching the 1.1042-level. The fall from 1.1040 and subsequent rise to 1.1078 amount to 61.8%. A rebound from the Fibo level is the first sign that the flat may drag on until Thursday.
On Wednesday, the US regulator will announce its decision as regards the national interest rate. On Thursday, the ECB meeting takes place, as well as voting in the UK general election. It is expected that the current US rate will be maintained, so the focus of speculators will shift towards the press conference of the heads of the Central Bank.
The Conservative Party looks likely to win the election comfortably. As a result, poll results have started to have less and less influence over the price of the pound.
December 15 is the deadline for the next increase in US tariffs on Chinese goods. Chinese authorities said they would like to conclude a trade agreement with the US as soon as possible. It is not known whether they will actually conclude any deal at all.
The euro is near the balance line. A lot of information is set to be published regarding the UK economy today. We believe that it will have a strong impact on all currencies paired with the British pound. Accordingly, the lack of dynamism regarding USD should trigger an echo effect in the EURUSD pair via the main EURGBP cross currency. According to the forecast, we are sticking with the likelihood of a weakening euro. If bears are able to lock down the 1.1030-1.1035 area then according to the price pattern, it will be possible to expect to see some sort of recovery resulting from the Christine Lagarde press conference scheduled for later in the day.