On Tuesday the 10th of December, the euro was up at the close of trading. Strong ZEW data sparked a recovery to 1.1085 in European trading. In the US session, growth accelerated to 1.1098 on the back of the message from WSJ which broke the news that the US and China remain optimistic about making progress in their trade-deal negotiations. Also revealed, was that the countries have opened talks regarding the possibility of postponing the punitive hike in tariffs on a wide range of Chinese goods, which the US plans to bring into force on December 15. "Bearish" technical signals were levelled out as a result of other events reported in the news and bulls were able to claw back Friday's losses.
Today's news (GMT 3):
16:30 USA: Consumer Price Index (MoM) (Nov).
18:30 USA: EIA Crude Oil Stocks Change (Dec 6).
22:00 USA: Fed Interest Rate Decision,                FOMC Economic Projections.
22:00 USA: Monthly Budget Statement (Nov).
22:30 USA: FOMC Press Conference.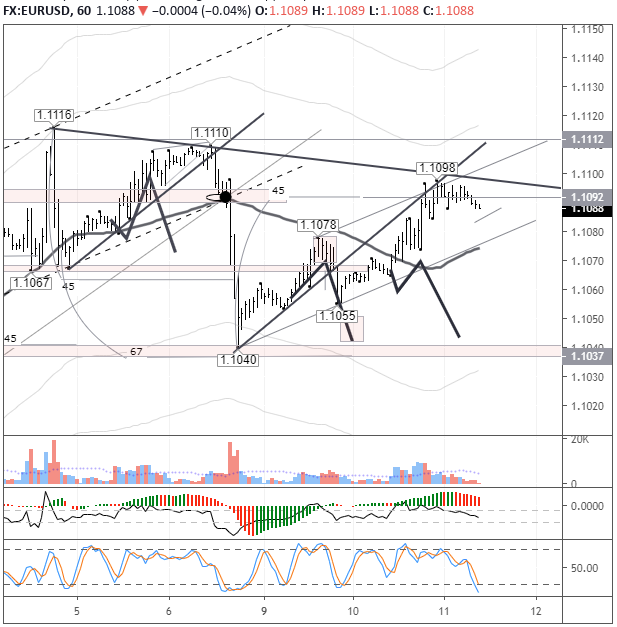 Current situation:
In the end, the drop in value we expected to see did not materialise. This was down to the news backdrop working against the USD.
In Asian trading, the EURUSD pair is trading in the red, and at the time of writing, the euro is valued at 1.1088. It is also worth noting that in the early morning, GBP fell 90 points. This was down to the publication of a new YouGov poll ahead of the UK general election. According to the poll, the Conservatives Party now looks set to win 339 seats instead of the 359 predicted on November 27th. Meanwhile, the Labour Party stands to win 231 seats, which is 20 more than previously thought.
Both traders and investors are playing it safe in anticipation of the meetings of the US Federal Reserve, the ECB and the UK general election.
The next scheduled two-day meeting of the US Federal Reserve Open Market Committee began on Tuesday. The base rate of interest is expected to remain unchanged. At the end of the meeting, the bank's management will present its forecasts as regards the development of the US economy for the next calendar year.
Today's review comes without a forecast as we await Jerome Powell's press conference after the FOMC meeting later in the day.