On Wednesday the 11th of December, the EURUSD pair closed up by 0.34% or 37 points (4 digits). The euro rose sharply after a US Federal Reserve meeting. The Federal Open Market Committee (FOMC) kept interest rates in the 1.5%-1.75% range, and also made it clear that it intends to take a break in 2020. Most committee members expect the base interest rate to remain unchanged until at least 2021.
The forecast for the US GDP index in 2019 remained unchanged at 2.2%, and 2.0% in 2020. The forecast for the unemployment rate in 2019 was reduced from 3.7% to 3.6%, and from 3.7% to 3.5% in 2020. The forecast for the personal consumption expenditures (PCE) index was reduced from 1.8% to 1.6% in 2019, and remained unchanged for 2020 at 1.9%.
Today's news (GMT 3):
10:00 Eurozone: Industrial Production s.a. (MoM) (Oct).
11:30 Switzerland: SNB Interest Rate Decision, SNB Press Conference.
15:45 Eurozone: ECB Interest Rate Decision.
16:30 ECB Monetary Policy Statement and Press Conference.
16:30 USA: Producer Price Index (MoM) (Nov), Initial Jobless Claims (Dec 6).
20:45 Canada: BoC's Governor Poloz speech.
The UK general election is being held today. The results will have a strong impact on the British pound, the euro and protective assets.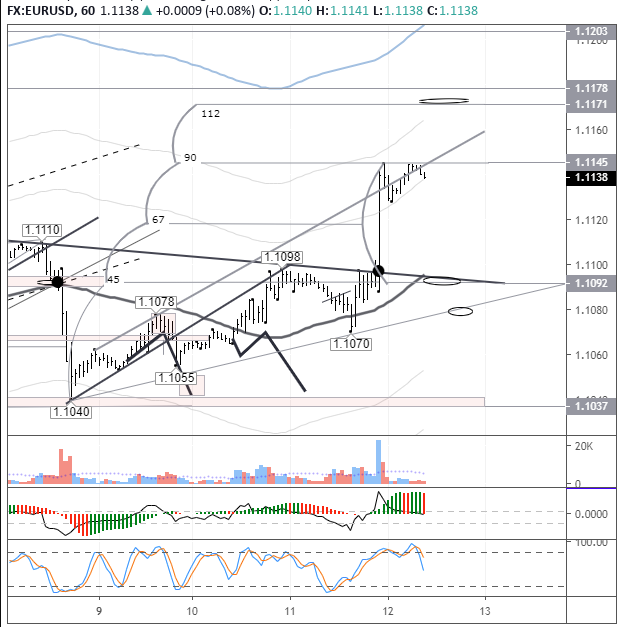 Current situation:
Speculators were not at all enthralled with the US Federal Reserve's decision to freeze interest rates, although the situation in 2020 may change. The price jumped up to the 90th degree, with the 112th degree reversal located at 1.1171.
Traders' attention is primarily focused on the UK general election results and ECB meetings. Since the market does not expect changes in rates from the regulator, Christine Lagarde's speech is of the greatest interest at the press conference. Traders will closely monitor her performance in order to understand in which direction the bank will operate under her leadership.
As yesterday, there is no forecast. This is Lagarde's first meeting, and how her speech and answers to questions from journalists will influence the price in euro pairs cannot be accurately predicted. However, we believe that market volatility will be no less than after the meeting of the US Federal Reserve. The first support is at 1.1092, the second at 1.1080. If we add the UK elections into the mix, it's even harder to imagine where the euro and the pound will be at the end of the day.