On Thursday the 12th of December, the EURUSD pair was two points down at the close of trading. The euro noticeably weakened during the American session. Pressure was exerted on the single currency by the rallying US dollar, and the reaction to Christine Lagarde's speech at the ECB meeting.
As expected, the European Central Bank upheld the current interest rate channel of monetary policy, but made minor changes to GDP forecasts and raised its inflation forecast for 2020.
The dollar was boosted by the news of the trade deal between China and the United States finally being agreed. Trump posted on his Twitter that: "we are close to concluding a major deal with China. They want to conclude it, just like us! " Bloomberg later reported that US President Donald Trump had signed off on the trade deal between the US and China to prevent planned tariff hikes coming into force on December 15.
Agreed in the trade deal:
The rollback of existing tariff rates for Chinese goods;
The abolition of new tariffs, which were due to enter into force on Sunday;
China will purchase agricultural products worth $50 billion USD in 2020 (along with energy and other goods);
The United States will reduce the tariff rate for many types of Chinese imports (currently by 15-25%).
Today's events (GMT 3):
16:30 USA: Retail Sales Control Group (Nov).
19:00 USA: Fed's Williams speech.
21:00 USA: Baker Hughes US Oil Rig Count.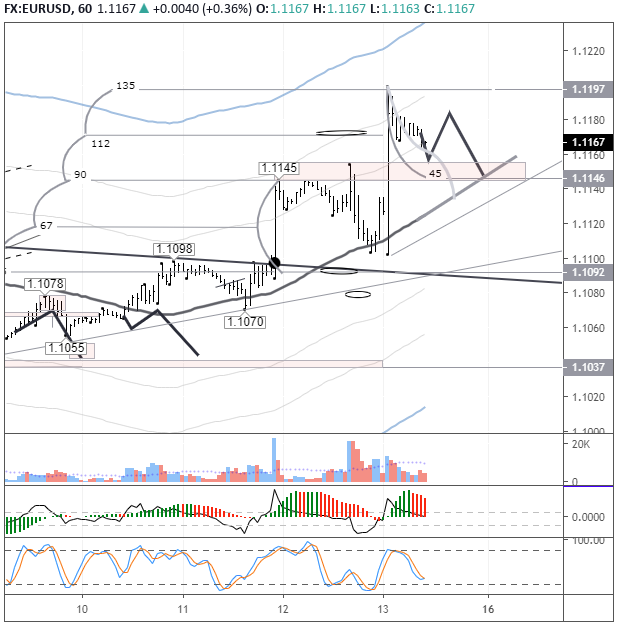 Current situation:
In Asia, the euro and the pound are trading in positive territory. The euro's state of flux was 100 points, and GBP - 450 points. Sharp fluctuations in the market were seen in reaction to the initial results of the UK general election. The Conservative Party won the election, winning enough seats to create a ruling majority in the UK House of Commons.
The price has fallen away from 135th degree. The pound also calmed down for a while. The correction was brief. Bulls refuse to lock-in profits, expecting further growth. The GBP price is located in the off-peak zone at the hourly TF, therefore, after a rally of 450 points, it is better to take profits and start afresh after the correction.
Bloomberg reports that US President Donald Trump has agreed on the first phase of a trade deal with China, and signed it. The dollar has strengthened, now we should see a correction, and risky assets should gain in strength. However, since the main movement came at the transition of the day, according to the forecast, we are waiting to see a correction to the balance line - 1.1146 (45th). If the fall ends up quicker, then a correction is more likely to 1.1135. The ECB's monetary policy will deter the euro from strengthening.