On Friday, the EURUSD pair fell 45 points (0.4%), to 1.1075, amid a general strengthening of the US dollar and decline in the EURGBP pair. Friday's data showed that the US economy has accelerated in the third quarter, and there are signs that the economy will maintain growth in the fourth quarter. GDP increased by 2.1% (year-on-year).
The Ministry of Commerce submitted a report concerning income and expenditure. In November, personal income rose by 0.5% after rising by a revised 0.1% in October (a 0.3% increase was forecast). Personal expenses grew by 0.4% after increasing by 0.3% in October (this indicator justified the forecast).
Today's news (GMT 3):
16:30 Canada: Gross Domestic Product (MoM) (Oct).
16:30 USA: Durable Goods Orders (Nov).
18:00 USA: New Home Sales (MoM) (Nov).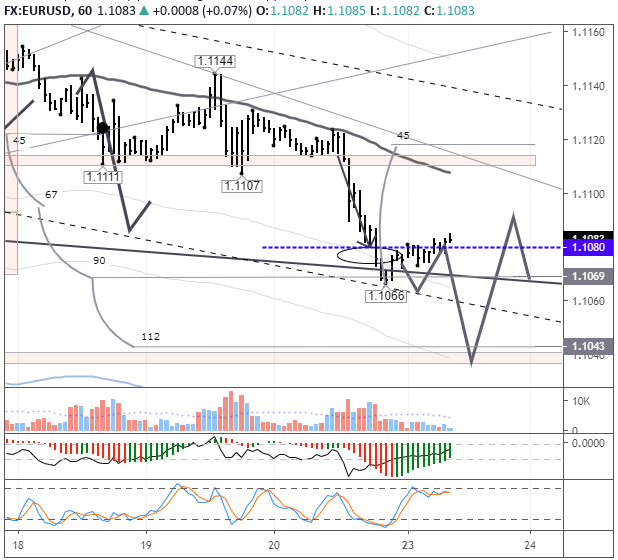 Current situation:
Expectations surrounding the weakening euro were fully justified. The price slumped to the 90th degree - 1.1069. After a long consolidation, bears were able to bring the price down. The slide accelerated once the support at 1.1110 was breached, and came to a stop on the bottom line of the downwards channel. The Gann reversal level is at 112th degree - 1.1043. In theory, today we should consider movement to counter that seen on Friday, but the cycles indicate the formation of a spike. For today's forecast, we'll go out on a limb to predict a fall to 1.1043, followed by a rebound up to 1.1090. For now, the value is consolidating, and we are missing the required down-wave necessary to see an upwards correction.
We also want to remind you that on Tuesday, exchanges are working on a shorter schedule. Their work will resume on Thursday. Now, before Christmas, the market has low liquidity, so unpredictable fluctuations in any direction are possible without the need for any fundamental and/or technical reasons.