On Tuesday, January 14, the euro finished up slightly down at the end of the day's trading. After the publication data concerning the inflation rate in the United States, the EURUSD pair fell to 1.1105.
In December, the Consumer Price Index (CPI) in the United States rose 0.2% (MoM) and 2.3% (YoY). The forecast was 0.2% (MoM) and 2.4% (YoY,) and the previous recorded values were 0.3% (MoM) and 2.1% (YoY). The annual growth of CPI fell short of forecasted figures, but exceeded the previous results with CPI at its highest since October 2018.
However, the reaction to the publication of the Index was short-lived, since market players have their eyes firmly fixed on the long-awaited signing of the first part of the US-China trade agreement.
Today's events (GMT 3):
12:30 UK: Consumer Price Index (MoM) (Dec), Retail Price Index (MoM) (Dec), PPI Core Output (YoY) n.s.a (Dec), Core Consumer Price Index (YoY) (Dec), Producer Price Index - Output (MoM) n.s.a (Dec).
13:00 Eurozone: Industrial Production s.a. (MoM) (Nov), Trade Balance s.a. (Nov).
16:30 USA: NY Empire State Manufacturing Index (Jan), Producer Price Index ex Food & Energy (YoY) (Dec).
18:30 USA: EIA Crude Oil Stocks Change (Jan 10).
22:00 USA: Fed's Beige Book.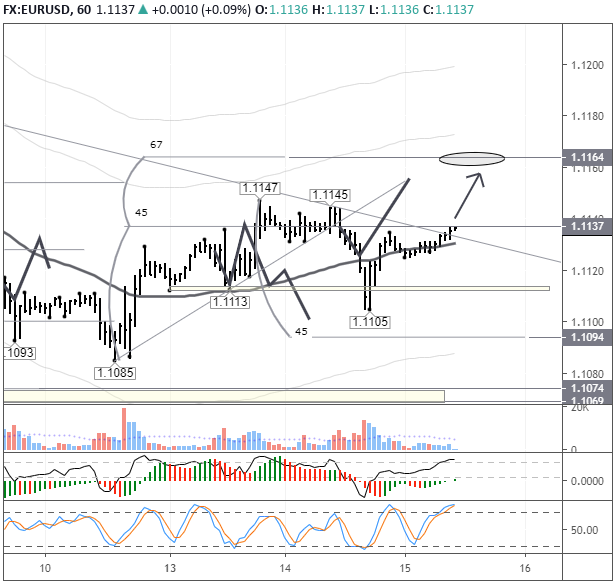 Current situation:
For the past two days in-a-row, forecasts have been strongly influenced by the regular influx of important market and political news. The current corrective wave pattern is complex. Yesterday, a false breakout of the trend line was recorded. Today, bulls again broke the trend line (which sits at 1.1134). A breakout is highly unlikely to occur today, since at 19:00 Moscow time, representatives of the United States and China intend to hold an official ceremony where the first part of the trade agreement between the countries shall be signed. This is an important event for traders, but has already been taken into account, according to market activity.
US Treasury Secretary Steven Mnuchin said that current customs tariffs on Chinese goods will remain in effect until an agreement is reached regarding the second part of the trade agreement. We are yet to understand all of the details, but it seems that China could well be in a losing situation here.
It's also worth mentioning that as part of the first stage of the trade deal, China has pledged to buy additional industrial goods from the United States totalling $80 billion (USD) over the next two years, and more than $50 billion (USD) worth of energy products.
Today, the official responses from the USA and China – once their agreement has been signed – will be of great interest. We could well see an ambiguous reaction to their comments on the markets; however, we are more inclined to predict a strengthening euro. The single currency could well reach 1.1164 (67th degree).