On Wednesday, January 15, the euro was up by 0.2% at the close of trading. Reaction to the signing of the first phase of the US-China trade agreement saw the EURUSD pair rise to 1.1164 (at the 67th degree). New all-time highs were set on US stock indices. Today, US President Trump confirmed that negotiations concerning the second phase of the agreement will begin soon.
Even though the first phase of the agreement has been signed, China remains in a "losing"  position. This is due to the fact that the US will maintain its current level of tariffs levied on Chinese imports until the second phase of the trade agreement has been concluded, as announced on Tuesday, by US Treasury Secretary Stephen Mnuchin.
Today's events (GMT 3):
12:30 UK: BoE Credit Conditions Survey (Q4).
15:30 Eurozone: ECB Monetary Policy Meeting Accounts.
16:30 USA: Retail Sales (MoM) (Dec), Philadelphia Fed Manufacturing Survey (Jan), Initial Jobless Claims 4-week average (Jan 10).
18:00 USA: NAHB Housing Market Index (Jan).
21:00 Eurozone: ECB's President Christine Lagarde speech.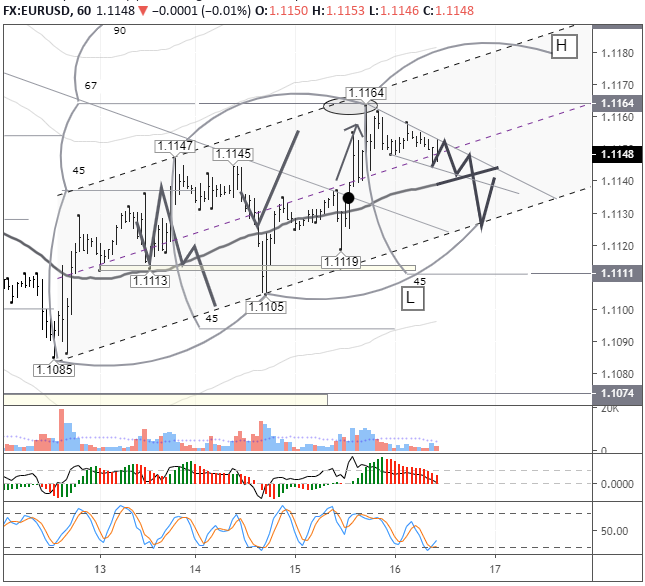 Current situation:
Yesterday's expectations for growth were fully justified. During the American session, the euro hit 1.1164 (at the 67th degree).
We have two peaks here: 1.1147 and 1.1164, two bases: 1.1085 and 1.1105. Three values ​​were used for the channel: 1.1085, 1.1105 and 1.1147. As you can see, the price is having difficulty passing the 50% level during growth. Now the 50% level is acting as support.
At the time of writing, the euro is valued at 1.1149. The formation from 1.1085 is complex. The situation is mixed amongst cross pairs. We really wanted to consider growth up to 1.1190, but if we centre on the position of the indicators at 1H and 4H, we can see further weakening of the euro for the lower channel trend line. The minimum projection is shown in the arcs drawn up to the 20:00-mark.
We can expect to see a fall to 1.1127 - the balance line will act as support. A rebound is possible, but given that the wave structure from 1.1085 to 1.1164 is corrective, a rebound is probably not going to happen. At 21:00, ECB President Christine Lagarde is due to make a speech, maybe she will act as the trigger for sharp price fluctuations.