On Wednesday, February 26, trading on the euro finished up at the same level as on Tuesday - 1.0885. Since February 21, the EURUSD pair has made its way up to 1.0909, following a consistent pattern. Observe on the chart below how the euro repeatedly fell in the first half of trading, before rising back up in the second.
In addition to the ongoing coronavirus outbreak, the US Federal Reserve is expected to slash interest rates in an attempt to prevent a dip in GDP by the end of the year. As usual, if the US Central Bank lowers its rates, other Central Banks will also soften their monetary policies.
Today's events (GMT 3):
13:00 Eurozone: Services Sentiment (Feb), Consumer Confidence (Feb), Industrial Confidence (Feb), Economic Sentiment Indicator (Feb).
16:30 Canada: Current Account (Q4).
16:30 USA: Gross Domestic Product Price Index (Q4), Durable Goods Orders (Jan), Initial Jobless Claims (Feb 21).
18:00 USA: Pending Home Sales (MoM) (Jan).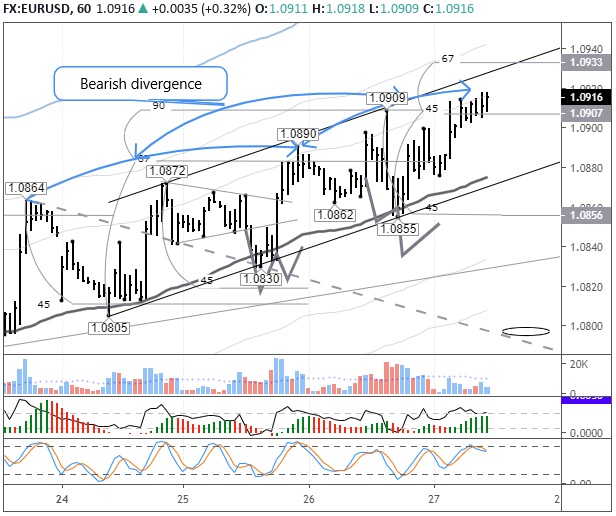 Current situation:
The euro is finding it tough, yet is managing to consolidate against the US dollar. At the moment, the pair is influenced by a range of different factors. News concerning coronavirus, the stock indices and bonds pulls the pair down, while expectations of a fall in US Federal Reserve rates pulls the pair up.
Major currencies are all trading in positive territory, euro cross pairs included. Technical factors indicate a price drop down to the balance line, while the general weakening of the dollar and an increase in euro cross pairs indicate continued growth.
The price has gone from one channel into another, and this requires the maintenance of great speed. We shall refrain from making a forecast for today, due to what we regard to be a contradictory technical chart. Divergences have not worked as expected. The price pattern is extremely volatile for such a long-standing rally, with the price increasing even in the absence of a large volume of trades.
The balance line acts as support, roughly coinciding with the trend line. Bulls are driving the price to the 67th degree, which is located at 1.0932. From the upper line of the channel, price fixing on long positions is expected. Today, we can reasonably expect a drop down to the 1.0877-mark.