On Wednesday the 3rd of June, trading on the EURUSD pair closed up. The eur gained 0.57% against the dollar to reach 1.1233. Yesterday, the dollar lost ground against all the majors. Throughout the pandemic, it's been treated as a safe haven asset. However, now that traders have their eyes set on economic recovery, they're starting to short it, while ignoring the ongoing protests in the US. The ADP report put some pressure on the dollar. The number of jobs in May fell by less than expected. Investors believe that the economic downturn caused by the coronavirus epidemic is over.
Day's news (GMT 3):
12:00 Eurozone: retails sales (Apr).
14:45 Eurozone: ECB interest rate decision.
15:30 US: initial jobless claims (29 May).
15:30 Canada: trade balance (Apr).
15:30 Eurozone: ECB press conference.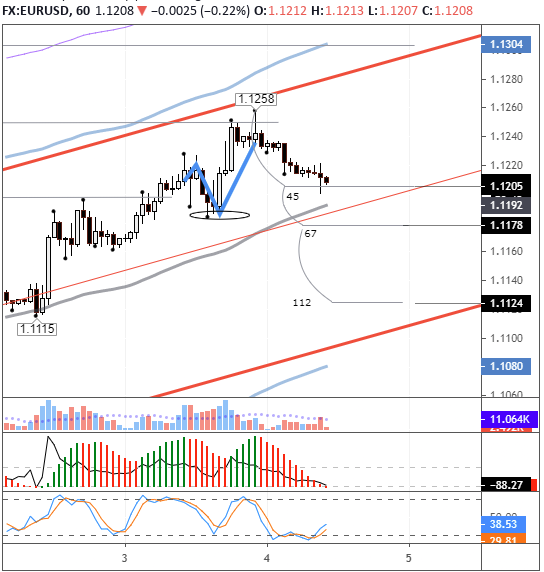 Current situation:
Yesterday's expectations were met in full. In the European session, the pair dropped to 1.1184 before recovering to 1.1258. The gradual easing of lockdown restrictions across Europe and Asia has increased the market's appetite for risk.
The euro has now been on the rise for the last 7 days. During this time, the euro has gained 3.52% (382 pips) against the US dollar. Markets are largely ignoring developments in the US. Protests have also made their way to Europe. In France, people have taken to the streets to protest the death of Adama Traore in custody three years ago. Protesters have clashed with law enforcement bodies both in France and the US. There are similar protests taking place in the US, the Netherlands, Germany, and New Zealand. European politicians are unnerved by the fact that many protesters are ignoring curfew restrictions, which were put in place as an attempt to prevent looting and vandalism.
Today, trader attention is turned towards the ECB meeting and the following press conference with Christine Lagarde. Interest rates are expected to be maintained at their current levels. Investors are expecting a decision regarding the PEPP (Pandemic Emergency Purchase Programme). Experts expect its expansion to push the euro up in the near future. If the ECB delays its decision regarding the purchase program, the euro could slide as far as 1.1125. If the program is expanded by 500-700bn EUR, we can expect the pair to rise. In any case, it's worth waiting for Lagarde's speech before doing anything. Today's and tomorrow's reviews won't contain any predictions (due to Lagarde's speech today and the NFP tomorrow).