On Thursday the 2nd of July, trading on the euro closed down by 0.10% against the dollar at 1.1239. The bulls erased the gains they made in the European session following the US employment report.
The US Bureau of Labor released its report on Thursday rather than Friday due to the fact that Friday has been declared a national holiday, with Saturday the 4th of July marking US Independence Day.
The employment report delighted markets as the main indicator came out better than projected. In the US in June, 4.8 million new jobs were added outside the agricultural sector, against a forecast of 3 million. Moreover, the unemployment rate dropped from 13.3% to 11.1%.
The improvements to the jobs market are indicative of a pickup in economic activity, which slowed down in March and April due to the coronavirus pandemic. June saw an increase in jobs in the hospitality, retail, education, healthcare, manufacturing, and services sectors.
According to a report by the US Department of Commerce, the number of factory orders in May rose by 8.0% on the previous month, which saw a 13.5% decline (this was revised to -13.0%).
Day's news (GMT 3):
10:50 France: Markit services PMI (Jun).
10:55 Germany: Markit services PMI (Jun).
11:00 Eurozone: Markit services PMI (Jun).
11:30 UK: Markit services PMI (Jun).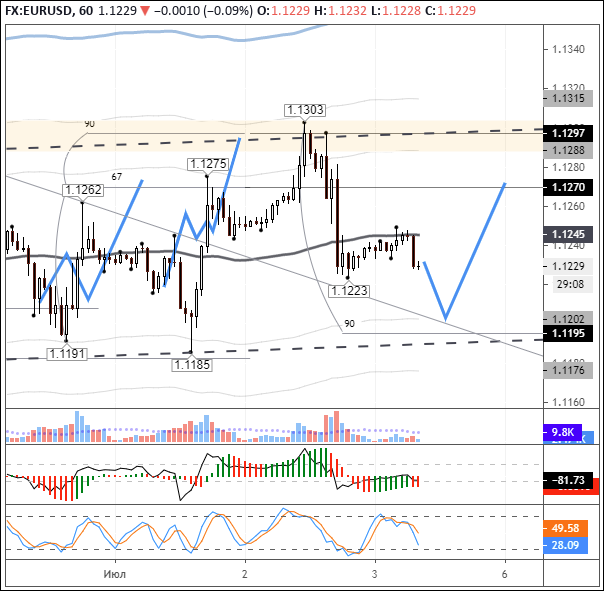 US Independence Day.
The EURUSD pair is trading within a 120-pip range. This is a good price range for inter-channel trading.The pair is currently trading in the middle of this range around the balance line (SMA 55).
Today's economic calendar is virtually empty. Exchanges are closed in the US. As such, futures trading on indices, currencies, treasury instruments, agriculture, metals, and energy (CME GROUP) is only available until 20:00 EET.
The bears have retraced 62% of the growth. They just need one more impulse to complete the wave structure from the 1.1303 high. The previous two lows have kissed the MA D1 line, so 1.1205 is a great level from which to enter a long position. The only cause for concern is the US national holiday. It may cause markets to stay asleep until Monday. We're going to risk predicting a rise from 1.1205 to 1.1272. But can the EURUSD pair rise past 1.1230?
It might do. The US employment report was good. This caused a rise on the dollar. This is normal. However, the dollar is also a safe haven asset as far as COVID-19 is concerned, so when we get strong data from the US, it increases the appetite for risk. The bulls will find it difficult when the bears set their sights on 1.1190. If the euro starts rising from its current level, we can revise our target to 1.1295.