On Tuesday the 7th of July, trading on the euro closed down. The single currency dropped by 0.32% against the dollar to reach 1.1273. At the beginning of the European session, the euro came under pressure after the release of German statistics. Industrial production figures were worse than expected, posting a rise of 7.8% MoM and -19.3% YoY in May, while markets were expecting a month-on-month rise of 11.0% and a yearly decline of -11.1%.
The EURGBP cross slumped by 86 pips from 0.9053 to 0.8967. The pound rose and the euro sank on the back of news that all officials involved in UK-EU post-Brexit trade negotiations would hold some informal talks on finalising a deal at Prime Minister Boris Johnson's office. The GBPUSD pair surged 130 pips to reach 1.2592.
The bulls recovered their losses following a correction on the EURGBP cross pair and a decline on the dollar, but by close, our main pair had returned to 1.1265.
Day's news (GMT 3):
12:00 Eurozone: European Commission economic forecast.
17:30 US: EIA crude oil stocks change.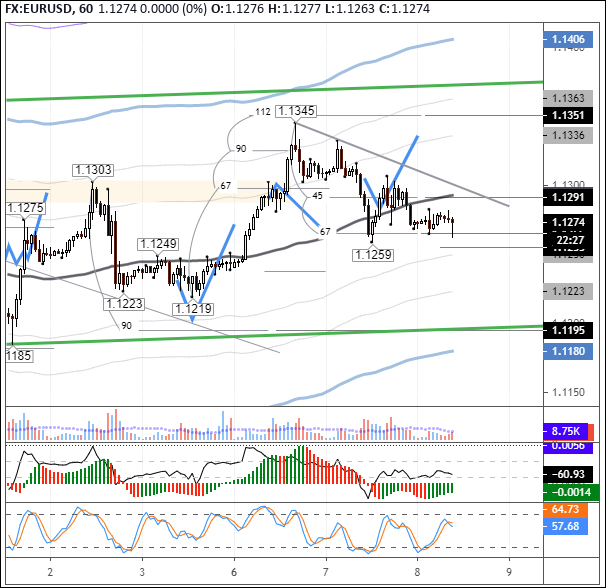 Current situation:
Today's economic calendar is bare. Traders will focus on Brexit negotiations and the spread of the coronavirus.
The total number of cases in the US has surpassed 3 million. California, Hawaii, Idaho, Missouri, Montana, Oklahoma, and Texas have all recorded a record number of new cases. The authorities in 25 states have expressed concern over the rate of hospitalisations.
US President Donald Trump said earlier that the virus will disappear on its own. Of course, it won't just disappear, and the situation is only getting worse. Every day, about 55,000 new infections are being recorded, and around 900 deaths.
The euro remains under pressure from three of the crosses, namely the EURJPY, EURGBP, and EURCHF pairs. Demand for the yen and franc have increased, which shows that investors are currently avoiding risk.
The drop came to an end at the 61.85 Fibo level of the growth from 1.1219 to 1.1345. At the time of writing, the euro is trading at 1.1267. The situation is mixed.
There are some signs that the pair is set to recover to 1.1310, while other signals indicate a drop to 1.1250 - 1.1253. The EURGBP cross will play a key role today. If we get a correction on it, the euro will rise above 1.13. If it keeps going down, the EURUSD pair will follow. If we get a drop below 1.1250, the bears will have 1.12 in their sights. For now, we're forecasting a rise in accordance with yesterday's projection to 1.1336. In this case, we'll get a drop once the pair reaches 1.1395 - 1.1420.