On Wednesday the 9th of July, trading on the euro closed up. The EURUSD pair recovered by 0.5% to reach 1.1329. The demand for risky assets continued until the end of the European session. The US stock market was on the rise despite caution among traders over the global spike in new coronavirus infections, especially in the US.
The US dollar index suffered a drop at the hand of a sharp rise on the pound. British Chancellor of the Exchequer Rishi Sunak announced a 30bn GBP fund to help deal with the unemployment crisis.
Day's news (GMT 3):
15:30 US: initial jobless claims (Jun).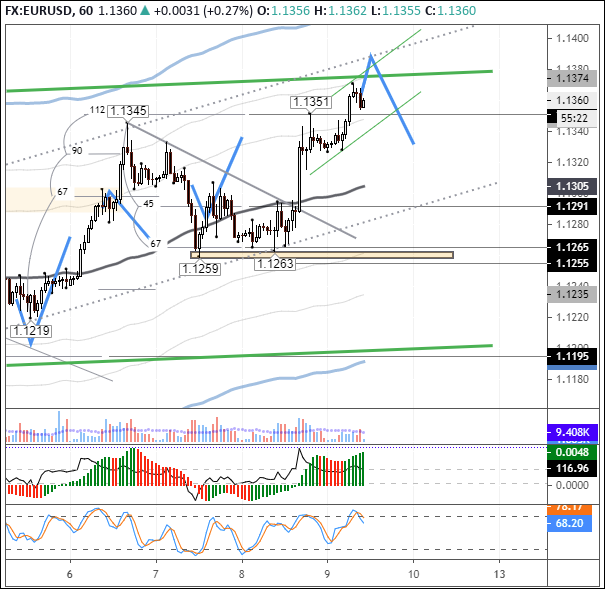 Current situation:
On Wednesday the 8th of July, the EURUSD pair returned to 1.1351. In today's Asian session, the bulls reach a fresh high of 1.1370. Investors sentiment towards risky assets remains positive. Traders in Asia are taking advantage of the dollar's decline in the US session.
Markets continue to focus their attention on continued economic recovery and improved prospects for the long-term future, although there are still momentary lapses in confidence due to the pace at which coronavirus is spreading across the US and the rest of the world.
In the last 24 hours, the US has recorded 60,021 new cases. The figure for the previous 24 hours was 55,122. These figures are unmatched around the world. The biggest casualties are Florida, California, and Texas, who together have recorded over 3 million cases.
Today's economic calendar is empty. The majors are trading up against the dollar. The euro crosses are also trading up. S&P 500 futures have gone into the red. Clearly, the bulls are trying to reach 1.1380/1.1395 before a downwards correction. We believe that 1.1380 is a strong resistance level, so we can expect a reversal from here and a correction to 1.1333. It may take the bears all day to induce this reversal. With a bit of help from the crosses, the bulls could take the rate up to 1.1420 (U3). If anyone is considering short positions, take this into account when setting your stop levels.