All major currencies closed the week higher. The largest gains against the US dollar were seen in the Swiss franc ( 2.01%). The single currency surged 2.0%, while other advancing currencies included the pound sterling ( 1.81%), the Australian dollar ( 1.59%), the New Zealand dollar ( 1.29%), the Canadian dollar ( 1.24%) and the Japanese yen ( 0.88%).
On Friday, the euro strengthened to 1.1658, while the USD/JPY pair fell sharply. The EU's agreement to establish a recovery fund to mitigate the effects of the pandemic has offered investors an alternative to US assets.
The dollar index slumped to a two-year low as risk appetite eased amid a slew of concerns, ranging from a delay in stimulus package legislation, an upsurge in virus cases, to an escalation in hostility between the US and China.
The US dollar trades as a defensive asset, while investors have started to turn away from it on the back of concerns about the outlook for the American economy. Even if the government comes out with another stimulus package, it might not be enough. On the other hand, FX players are buying into gold and the euro, shrugging off an upturn in Covid-19 cases.
Gold is on the rise amid declining US 10-year bond yields. On Monday, July 27, the price of gold spiked to an all-time high of $1,930/oz.
Meanwhile, the Chinese Foreign Ministry ordered the US Embassy early Friday to shut down its consulate in Chengdu in retaliation for the US closure of China's consulate in Houston.
Today's macro agenda (GMT 3):  
At 11:00 Germany's Ifo Business Climate Index, the Ifo Current Conditions Index, and the Ifo Business Expectations Index will be released for July.
At 13:00 Germany's Bundesbank will release its monthly report.
At 15:30 the US Census Bureau is scheduled to release durable goods orders for June.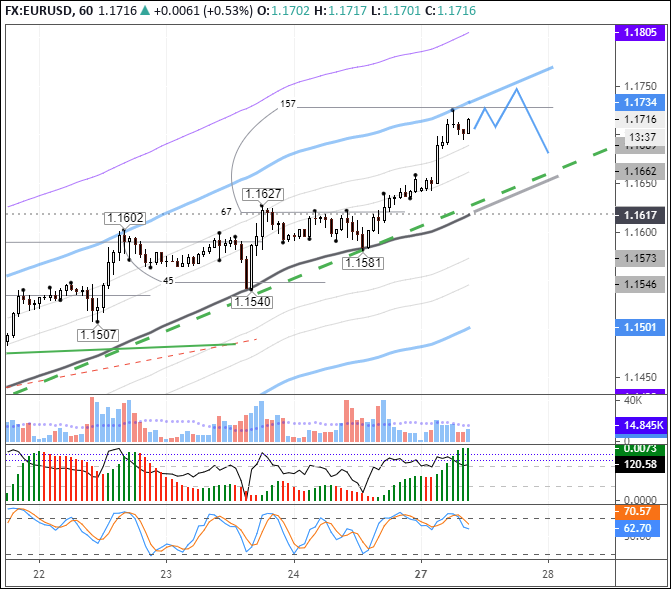 Current situation:
Despite the deterioration in relations between the US and China, as well as the uptrend in the number of Covid-19 cases, the EURUSD pair recovered to 1.1725. A strong bullish trend could be shaping up. Retail players are selling, while big players are buying on the CME. Euro strength is supported by a rise in euro crosses. The single currency is trading in the red against the Japanese yen.
In our view, the euro looks slightly overheated, and by the close of the week we expect to see a corrective movement. The price stopped at 157th degree near the U3 line (MA with a 1% divergence from the LB line). We expect a decline to set in near the opening of the US trading session. The trendline runs through 1.1635.