On Tuesday, July 28, the EUR/USD pair ended the day 0.31% lower at 1.1715. The euro started to slide due to a pullback in gold and silver prices. By the opening of the European session, the single currency had fallen to 1.1699. Buyers managed to hold the 1.17 level as the price of gold recovered from $1,907 to $1,961/oz. Volatility escalated across all markets. Intraday fluctuations in gold widened to $70. And although buyers pushed up the price to 1.1743, they were unable to muster any upward momentum.
Today's macro agenda (GMT 3) 
At 14:00 Switzerland's July ZEW and Credit Suisse investor sentiment indices will be released.
At 14:30 the UK's monetary aggregate M4 is due out, as well as the number of approved mortgage applications and the amount of new household loans extended in July.
At 15:30 the US balance of foreign trade for July will be reported.
At 17:00 US pending home sales for June will come out.
At 17:30 the EIA will release its weekly petroleum status report.
At 21:00 the FOMC will announce its interest rate decision and issue an accompanying statement.
At 21:30 the FOMC is scheduled to hold a press conference.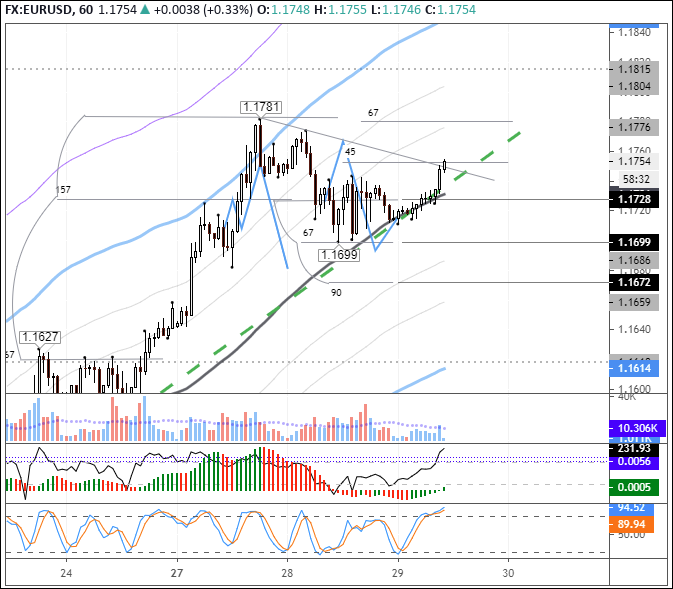 Current situation
Price action tapped into strong upward support, which formed at the 67th degree near the balance line, and also the trendline. The price along the trendline recovered to 1.1735 and accelerated to 1.1748. The growth amounted to 45 degrees from the 1.1699 low.
On Tuesday, the Fed announced the extension of its lending programs until year-end, although they were supposed to end on September 30. The extension implies that the economic impact of the pandemic has been longer than expected. The market reacted sluggishly to this news.
Markets now await the outcome of the FOMC's two-day meeting In line with the forecasts, rates are expected to be left unchanged in the range of 0.00%-0.25%. Of greatest interest is the press conference by Fed Chairman Jerome Powell. Market participants hope to hear from the US Central Bank about its readiness to support the economy. The market is taking a breather. Gold is on the rise, as are other major currencies. Euro crosses are all trading in the green. This means that the price could retrace to 1.1770 before long. We refrain from making a forecast ahead of Powell's press conference.